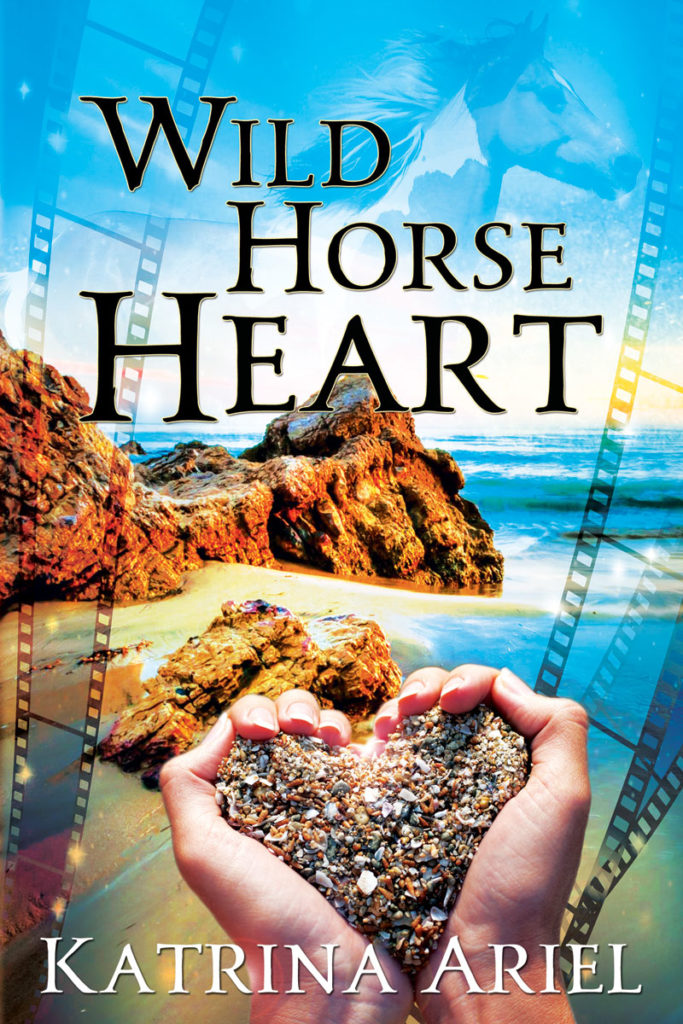 WILD HORSE HEART by Katrina Ariel
"And then a man threw a crisp hundred into her guitar case."
With a soft belly and thick thighs, Ria isn't Hollywood's version of beauty. But when award-winning director Ben Crawford hears her sing, he casts her as his lead, a move that wins more of Ria's heart than she wants to admit. Then she learns her co-star is Gregory Finn, a man she's had a crush on for fifteen years . . . a man notorious for romancing his leading ladies and leaving them when production wraps up. Ria is sure Finn won't want her, but their chemistry is off the charts. She guards herself against the inevitable end, but even Finn's emotions get tangled.
When Ria's ex jumps parole, she's terrified he'll go after her and her three children, blaming them for ruining his life. Security is high at the wild horse sanctuary where the movie is being filmed, and everyone is on edge. Ria's adopted daughter clings to her stuffed blue dog, and only Gregory Finn or a game of poker can draw the ten-year-old out of her shell. For Ria, the horses are her solace, but with her heart pulled between two men and her family's lives threatened, it will take everything she's got to hold it together for the film.
REVIEWS

"Deftly written, a lush love story that moves like a freight train with indelible characters." — Melanie Wise, founder of Artemis Film Festival

"Passion, danger and adventure at every turn of the page. This story keeps you on the edge of your seat till the end, constantly wrapping you up in Ria's heartstrings. An honest look into a woman's mind and soul, how she is the last person to see how wonderful she is, and that strength and beauty come in many packages." — Maja Aro, award-winning filmmaker / stuntwoman

"My favorite stories hit that sweet spot between romance and women's fiction, and Katrina Ariel's Wild Horse Heart sits squarely in the middle of those worlds." — Amanda Heger, author of Semi-Scripted

"I thoroughly enjoyed this book. A refreshing storyline, realistic, well fleshed out characters and a plot to satisfy any reader looking for a happy summer read." — A. Thyme, reader
Get this great summer read now: On Sale All July!!!
Amazon | Barnes & Noble | Kobo | Google Play | Apple iBooks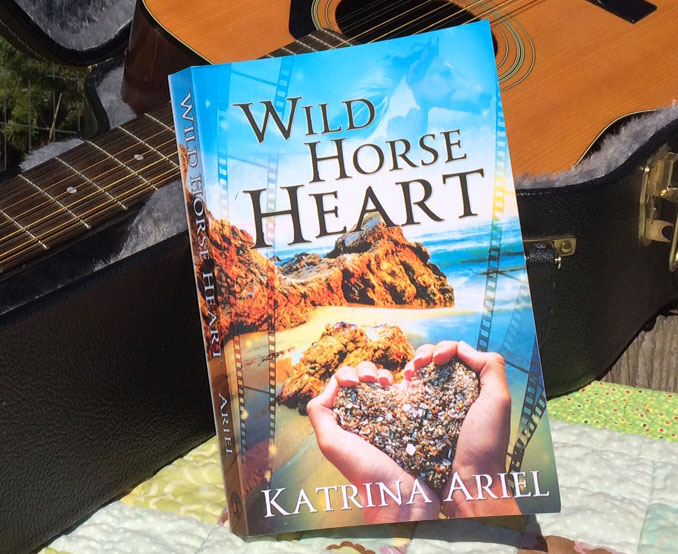 EXCERPT
Ria always played the Farmer's Market on Sundays. She never imagined this would be the last time. That morning in late June, she strummed her guitar in her usual spot between vendors, with fresh produce on her right and the best tamales in Hollywood on her left. The sun scorched her black hair as she sang. The song earned her smiles, coins, and a few singles.
And then a man threw a crisp hundred into her guitar case.
Ria gaped. Her fingers picked the last notes of the song as she swept her eyes up to the man's face. She recognized his messy hair and crooked smile, but she couldn't come up with his name.
"You have an incredible voice," he said, revealing hazel eyes as he took off his shades. His ears stuck out a little, giving him a boyish look, though he had to be over forty.
"Thank you," she replied, trying not to stutter. "That's a very generous tip."
"I'm hoping it will entice you to listen to my offer," he said.
"Which is what?" asked Ria.
"I'm filming a movie. Casting the lead role in the next week. I'd like you to audition."
Ria's guard went up. "What kind of movie? It's not porn, is it?"
The man laughed. "No, it's not porn. It's about a mother who wanted a horse ranch all her life. When she finally gets it, everything else falls apart. Her husband leaves her, and she has to fight to keep her ranch and not lose her son to drugs."
Ria's eyes stung as she considered the kind of struggle that would be, not wanting to even think about her own kids going down that road. But why would he want her? She had thick legs, a belly that was soft from two pregnancies, and cheeks that were plump by Hollywood standards.
"What's your name?" she asked.
"Ben Crawford."
"You're the guy who filmed Sleeping in the Rain, right?" He nodded. The movie had won numerous awards, and his pride showed in his smile. Ria stood up, held her guitar in her left hand, and stuck out her right for a handshake. "Ríona Walsh. I go by Ria."
"Pleased to meet you, Ria." He pulled a business card and pen from his pocket, then jotted down an address. "Can you make an audition next Saturday morning? It's the last one we're doing. I've got the rest of my cast, but haven't found my Josie yet."
Ria nodded, her heart racing, hoping he didn't see the way her hand shook as she took the card. She wanted to ask him, "Why me?" But what she said was, "I'll be there."
"Bring your guitar," said Ben, and gave her a wave.
When Ria realized she was admiring the way his jeans hugged his rear as he walked away, she scooped up the hundred, sat down, and started playing again.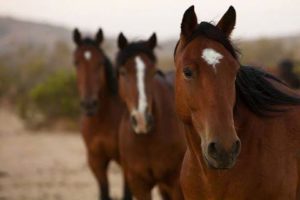 SPECIAL INTEREST
A portion of proceeds from book sales is donated to programs that rescue and protect wild horses, so you can feel extra good about adding this title to your shelf! (Horse photo courtesy of Lifesavers Wild Horse Rescue, a beneficiary of proceed donations.)
WILD HORSE HEART is a 77,000-word stand-alone contemporary romance with lots of suspense and a moderate heat level (some steamy scenes, and some left to the imagination).
On Sale for the entire month of July!
YAY!
Get yours here:
Amazon
Barnes & Noble
Kobo
Google Play
Apple iBooks
---
AUTHOR BIO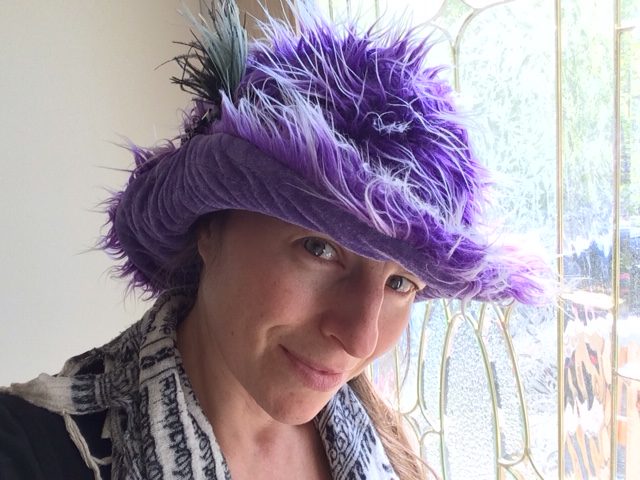 Katrina Hokule'a Ariel is an old-soul rebel, a musician, and a tree-hugging yogini who swears a lot. She quit teaching yoga to be a full-time mother to twin boys, but she couldn't stop writing if she tried. Katrina lives in the highlands of British Columbia with her man, twin toddlers, and Toby the cat. In the summer, you can find her staring at the stars and hanging out with horses. In the winter, she's feeding the fire in the wood stove.
The author of WILD HORSE HEART (contemporary romance) and YOGA FOR DRAGON RIDERS (non-fiction), Katrina's writing is entertaining, empowering, and aimed at the soul.
Katrina loves connecting with other book lovers! Find her here:
Twitter: https://twitter.com/KatrinaAriel
Facebook: https://www.facebook.com/yogawithkatrina/
YouTube: https://www.youtube.com/user/YogaWithKatrina