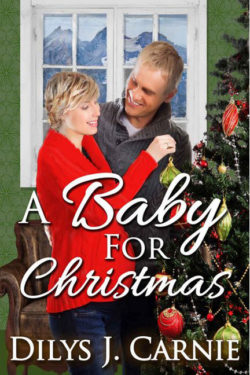 Author

Dilys J. Carnie

Release Date

December 5, 2016

Publisher

Beachwalk Press, Inc.

ISBN/ASIN

9781944270537

Our Rating

Reviewed by

Jo
Our Review
A BABY FOR CHRISTMAS by Dilys J. Carnie was a quick read at only sixty-seven pages. The book begins in North Carolina with the prologue, but Belle is from Wales and owns a bed and breakfast there that she used to own and run with her grandmother, who raised her and has since died. The first chapter has us back in Wales six months later, and a lot has happened during that time.
Belle and Ethan have strong chemistry considering they only knew each other for one day when she was visiting North Carolina to relax and get away from things. He tracks her down, and won't he get a surprise although Belle's nothing but shocked that he would bother to do so!  As they take one step forward and a few back, there are strong feelings on both sides, and not just because there's going to be a baby.
Getting to understand Belle and Ethan as they get to know each other was interesting. There is a depth to them that gets peeled back a little at a time. He seamlessly fits in with her life no matter how much she wants him to go back to North Carolina…or does she? There are some parallels in their lives and lots of attraction and chemistry. Carnie gives some closure with a happily-ever-after, but I would have liked more, especially in an epilogue since the story was so short.
Carnie is a new-to-me author and I look forward to reading more of her books only having read A PERFECT CHRISTMAS so far.