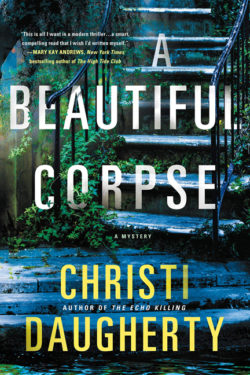 Author

Christi Daugherty

Release Date

March 12, 2019

Publisher

Minotaur Books

ISBN/ASIN

978-1-250-14887-2

Our Rating

Reviewed by

Kate Curran
Our Review
A BEAUTIFUL CORPSE by Christi Daugherty hooked me from the first page. I loved the characters, especially the heroine, Harper McClain, a crime reporter. She's young, smart, and savvy, and her best friend, Bonnie, is adorable, sweet, and always there for Harper.
When a waitress who works at the bar with Bonnie is killed, Harper is assigned to cover the story. Everyone, including Harper, believes the boyfriend did it, but when the police let him go for lack of evidence, Harper starts digging for a new suspect and discovers the real killer comes from one of the wealthiest families in Savanna.
Getting information is an uphill battle for Harper because the Savanna police department has shut her out after she brought to light that one of their own has committed murder. And it was Harper's testimony that sent him to prison for life. But Harper never gives up no matter how much grief the police give her. She always fights for justice for the victims and their families.
Even though it's obvious who the killer was early on, it's still a page turner because the killer had an airtight alibi. I had to keep reading to find out if Harper would be able to unravel the mystery and bring the killer to justice.
The only thing I'd like to have seen more of was her on again/off again love interest, Luke. The attraction between them was intense but brief. A terrific read.