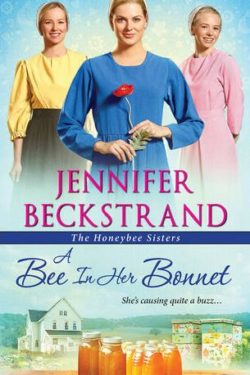 Author

Jennifer Beckstrand

Release Date

July 26, 2016

Publisher

Zebra

ISBN/ASIN

1420140221

Our Rating

Reviewed by

Dottie
Our Review
Better known as the Honeybee Sisters, independent Poppy Christner and her siblings are being raised by her Aunt Bitty on an Amish farm after the death of their parents, raising bees and collecting the honey to support themselves. She isn't about to lie down for the latest bit of mischief being perpetuated on their farm by some miscreants who seem determined to run them out. Used to defending those who are put upon and bullied, Poppy is not about to back down now that the trouble involves her family. In the past, Poppy may have had to endure the insults of her arrogant school mate Luke Bontrager, but she is not about to accept his interference now.
Strong-minded Luke believes that only females should do 'women's work', but this does nothing but stir up Poppy's dander, as well as her aunt's. Still, Luke has a way with the girls' aunt and has an ability to give humorous comebacks to her gruff remarks. Although he spends quite a bit of time at the Christner's home and with Poppy, he doesn't consider her as a girlfriend. After all, he is dating someone much different from Poppy. But after a while, he begins to notice the differences in the two girls and discovers the deep felt love within Poppy, despite her tomboyish attitude.
Poppy's aunt has warned her and her sisters not to feed boys or they would return time and time again. Although Luke is appearing at her family's farm often, he has made it plain that he prefers another type of female. But someone who wants the girls and their aunt gone is sabotaging their farm and Luke and his friends are determined to ferret out the villain. But can they find the vandals before harm comes to the woman he loves and her family?
An uplifting tale, A BEE IN HER BONNET, the second novel in bestselling author Jennifer Beckstrand's HONEYBEE SISTERS series, is an inspiring, hilarious contemporary tale with an Amish setting. Luke believes that he is attracted to another type of female, but as he spends time with Poppy, he finds himself longing for her company and barely able to stand being around the type that he once enjoyed dating. The differences between the two females, Poppy and the girl he has been dating, soon become glaringly obvious. It takes a little time before Luke realizes that he enjoys his time with Poppy much more than with the annoying girl he is dating. Poppy also has feelings for Luke, but she tries to hide them, believing he could never be interested in someone like her. She puts up a wall, not letting anyone close, except her aunt and her sisters. But Luke is determined to tear down that wall.
I love Aunt Bitty's offbeat attitude, a gruffness that covers the deep-seated love she feels for her nieces. This love seems to fill the void left by her own parents' disapproval of her actions and the pain she feels at the loss of her sister, the girls' mom. With the sisters at the point in their lives that they are finding love and are about to leave home, I would love to see Ms. Beckstrand provide a love interest for Aunt Bitty also.
It is a great joy to escape into Ms. Beckstrand's Amish world, where the people are loving and kind as they struggle to deal with adhering to their beliefs and doing what is right. Be prepared to laugh. The love and humor infused in this book will lift your spirits and brighten the day of even the most hardhearted person. I always hate to reach the end of one of Ms. Beckstrand's novels and be forced back into life in the world outside the pages of her book. The next installment of this series, LIKE A BEE TO HONEY, is due to release August 30, 2016. I cannot wait to revisit Ms. Beckstrand's world. In fact, I already have my order in. Meanwhile, treat yourself to a copy of A BEE IN HER BONNET or any of the books in this fascinating collection. You will be glad you did!