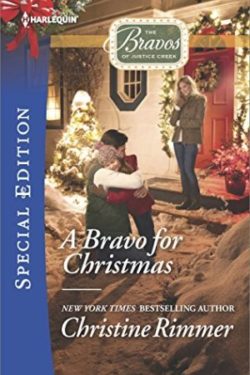 Author

Christine Rimmer

Release Date

November 22, 2016

Publisher

Harlequin

ISBN/ASIN

9780373650958

Our Rating

Reviewed by

Chrissy Dionne
Our Review
Darius Bravo has been pursuing Ava Malloy since they were in high school. She's always turned him down flat with one excuse or another.  They both moved away, Ava married, had a daughter, and became a widow … now they're back in Justice Creek and Darius has won over Sylvie, Ava's seven-year-old daughter.  Her mom's not quite as easy to convince to give him a chance.  Imagine his surprise when after all these years something's different and instead of brushing off flirtatious suggestion, Ava flirts back and even makes her intentions known.  She's not looking for a happily ever after… she thought she had that once and it didn't end well.  Ava wants a holiday fling – over and done by January 1.  What she didn't anticipate is Darius's determination or the fact that the man is fully capable of sneaking his way into her heart – just like the rest of his family has over the years.
I'm a longtime fan of Christine Rimmer's BRAVO series. Fell in love with the series when I read BRAVO FAMILY TIES (an anthology that contains 3 of her previously released stories) way back when and looked forward to each new addition to the series ever since.  Her newest release A BRAVO FOR CHRISTMAS is adorably heartwarming, sexually charged, and emotionally captivating.  Darius is the lighthearted charmer I've come to expect from the Bravo clan.  He's serious when he needs to be but genuinely enjoys life and that spills through to the reader.  Ava's had a rough life and is probably far more guarded than she needs to be but it's understandable.  She's a great mom and Sylvie is a testament to that fact.  It's completely out of character for her to proposition Darius which makes their whole relationship great fun to imagine and a little heartbreaking at times. 
I'm really looking forward to the next title in the series since we get a sneak peek at Jody's situation towards the end of this story and I'm really interested to see how it plays out.
Christine Rimmer's BRAVO series is rather extensive so here's a link to the series in its entirety:
http://christinerimmer.com/bravo_booklist.html
and here's a list of the titles in this particular offshoot from the series:
BRAVOS OF JUSTICE CREEK:
NOT QUITE MARRIED
THE GOOD GIRL'S SECOND CHANCE
CARTER BRAVO'S CHRISTMAS BRIDE
JAMES BRAVO'S SHOTGUN BRIDE
BRAVO AND THE BOSS
A BRAVO FOR CHRISTMAS
THE LAWMAN'S CONVENIENT BRIDE – releasing in May 2017
GARRETT BRAVO'S RUNAWAY BRIDE – releasing in October 2017