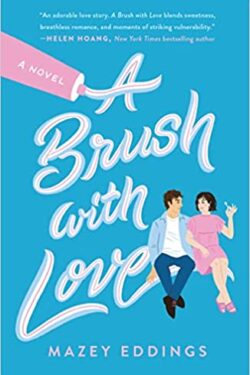 Author

Mazey Eddings

Release Date

March 1, 2022

Publisher

St. Martin's Griffith

ISBN/ASIN

9781250805980/‎B092T8WZ5W

Our Rating

Reviewed by

Michele Rioli
Our Review
A BRUSH WITH LOVE is a warm, fresh and truthful tale on relationships. It stars a brilliant, beautiful girl, Harper who has suffered from extreme anxiety all her life. She hides it from her best friends. Her condition is a hindrance and she's adjusted her world to fit a strict existence. One day she bumps into a devastatingly, handsome guy named Dan. She instantly crushes on him big time. Harper is also a whip-smart dental student and has worked hard toward her ultimate goal of a topnotch oral surgeon residency program. Can Harper swing her career goals and befriend Dan too? Her heart tells her go ahead, but common sense tells her it may be her undoing. She has never been completely honest with anyone about her condition.
Dan is in dental school too, but his talents lie elsewhere. His parents' family business dictated his career path, but it's really not for him. He struggles in his courses. When he is knocked over in the hall by an extremely pretty lady, his world takes a delighted turn. He sees Harper as the yin to his yang. However, Harper just wants to be friends. Dan agrees to her plan, anything just to be in her orbit. Her intelligence and beauty ensnares his heart and he can't get enough of Harper. Will fate intervene collapsing Harper's orderly world, allowing her to see that love is for everyone, even her?
A BRUSH WITH LOVE is heartfelt, tender and life-affirming. Ms. Eddings encapsulates a world filled with romantic entanglements, sharp wit, authentic relationships, and a unique plot about dental school. This story left me grinning with its perfect ripening romance that is at times combustible and ever evolving. So much happens and there are intriguing subplots, which adds suspense to the surprising story. I love Harper's brave outlook on life. How she contemplates problems and diffuses them in her own style. At times it becomes unglued and therein lies the story of her life. The author tells a beautiful tale of the complexities of anxiety and how it transforms a person's life. My heart goes out to all the people who have it and have to cope with it. The relationship between Harper and Dan is emotional and hopeful. I rooted for them all the way to consummate their love. I encourage everyone to escape into Ms. Eddings' sensational debut novel, A BRUSH WITH LOVE. It's a clever, refreshing, rom-com for the soul!