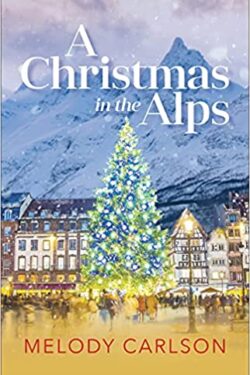 Author

Melody Carlson

Release Date

September 7, 2021

Publisher

Revell

ISBN/ASIN

9780800739331/B08XLHMZWZ

Our Rating

Reviewed by

Michele Rioli
Our Review
A CHRISTMAS IN THE ALPS is old world charm with a sneaky romance drizzled in that leaves you wanting more! The story stars a lovely lady, Simone Winthrop, who goes through her late great-grandmother's things after her death. Her friend helps her go through them and they happen upon a letter addressed to Simone. The letter is from her great-grandmother explaining there is a treasure she wants her to find at her house in France. Will Simone go when she is deathly afraid of flying?
Her best friend coaxes her into going. Simone can't back out, after her friend buys her new clothes, luggage and plane tickets. Now, she is on her way across the world to find what exactly? She wished she knew!
Simone meets a kind, handsome stranger on the plane, Kyle Larsson, in the seat next to her. She finds out he is on his way to France to work as a clockmaker. He distracts her by making small talk and her plane ride is a pleasant one. There is an attraction between them but they depart ways at a layover. Will they meet again? Will Simone find the treasure?
Mysteries are afoot in snowy, wistful, historic France in A CHRISTMAS IN THE ALPS. An age-old treasure hunt amidst old relics, cranky relatives, adventure, and love weave magic in Ms. Carlson's new festive, holiday romance novel. This is one story to cherish as you follow the footsteps of a woman who is determined to find out about her family history and so much more. The story brims with an emotional edge, boisterous banter and crackling chemistry.
Ms. Carlson touches on serious topics while being intriguing and funny. The author smartly includes difficult relationships that require work. The attraction between the stars is obvious. There are mishaps that throw a monkey wrench into the mix. I wondered if Kyle and Simone ever get their much needed alone time? Ms. Carlson expertly tells an adorable love story with style! A CHRISTMAS IN THE ALPS stole my heart!