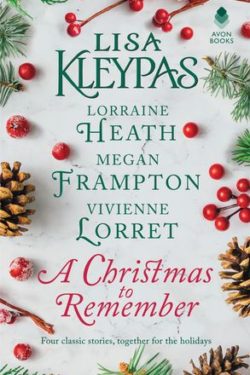 Release Date

September 26, 2017

Publisher

Avon Books

ISBN/ASIN

9780062747235

Our Rating

Reviewed by

Patricia Solla
Our Review
This book is a collection of 4 historical stories, set at Christmas time, written by 4 different authors.
I Will, by Lisa Kleypas, introduces the reader to man who needs to court a respectable Lady in order to please his father and be the heir apparent to his title. The Lord is the perfect example of a rogue and the Lady is very respectable. The Lord makes an offer the Lady cannot refuse and so the tale begins. These two characters have nothing in common but grow together during the time they spend together in celebration of the Christmas holiday at his father's estate. The storyline is well written and moves along nicely to a satisfactory conclusion.
Deck the Halls with Love, by Lorraine Heath, concerns a Lady being courted by a Lord who had in the past broken her heart. The story opens with the Marquess allowing his soon to be bride to marry the man she really loves. Now at Christmas time the Marquess attends a house party with the intention of courting the woman he really loves. The Lady involved is engaged to another and the Marquess has to convince her that she really loves him. This storyline is also well written and moves along nicely to a satisfactory conclusion.
No Groom at the Inn, by Megan Frampton, involves a man with a matchmaking mother and a Lady who is destitute and looking forward to taking care of a distant relative's home and family. The story begins with a chance encounter of the Lady and the man at an inn where the lady is waiting for a public coach to take her to the far reaches of Scotland. The man approaches the Lady with a proposition that she accepts and the adventure begins. The man advises his mother he will be taking the Lady with them for the holidays as he intends to marry her. Of the 4 stories, this story was the most enjoyable for me. The reader gets a word and 3 definitions to choose from at the beginning of each chapter. We find out that these are part of a game played at the house party and at the end of the story the answers are given. This was a lively adventure.
The Duke's Christmas Wish, by Vivienne Lorret, has a Duke who has created a formula, involving marriage, that he wants to present to a society he wants to join. This storyline, for me, was a bit stuffy and a little difficult for me to follow. It moved slowly and is quite involved with some odd things going on. The story opens with two attendees to a party at the Duke's home. Lady Lilah and her friend Ivy, who's there to help Lilah, are just two among many eligible women the Duke is supposed to pick from to marry. The odd romance that ensues is interesting and ends nicely.