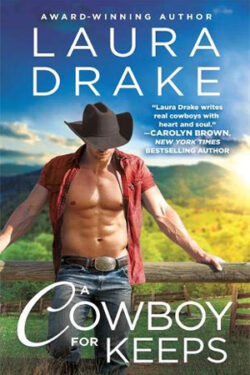 Author

Laura Drake

Release Date

July 28, 2020

Publisher

Forever

ISBN/ASIN

9781538746479

Our Rating

Reviewed by

Jo
Our Review
A COWBOY FOR KEEPS is the third book in the CHESTNUT CREEK series, and it was nice to be reunited with characters we've met before in the small town of Unforgiven in New Mexico. Lorelei is the manager of the small cafe in town and has her hands full with her aging mom, who needs a lot of care due to her forgetfulness, and the rundown home they live in. 
When they get bad news about her sister, things start to look up in unexpected ways with the addition of six-month-old Sawyer. When the brother of Sawyer's dad enters the picture, things heat up fast. Reese is too good-looking and rich in Lorelei's eyes, but when she realizes he's hurting too, they try to make a truce. Lorelei and Reese have an attraction and a lot of townspeople rooting for them! The story is told from their point of view in alternating chapters or sub-chapters.
The story has a lot of heart along with some heat. Sawyer is a cutie, and I love how she takes to both Lorelei and Reese. There's some underhandedness that Reese gets blamed for, and it's interesting to watch the fireworks. The story is filled with friends and family, community, and a heartfelt romance.
I've read the second book in the series, HOME IN CHESTNUT CREEK, and plan to read the first book, THE LAST TRUE COWBOY, which started the series and will help me fill in some of the blanks. A fun read by Laura Drake!