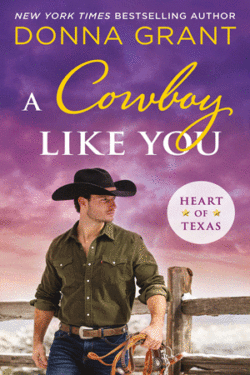 Author

Donna Grant

Release Date

November 26, 2019

Publisher

St. Martin's Paperbacks

ISBN/ASIN

1250250048

Our Rating

Reviewed by

Raonaid
Our Review
Sheriff Danny Oldman is married to his job. He never once forgot about his high school crush. Danny witnesses an altercation and steps in to defuse the situation. The woman involved is none other than Skylar Long, the one who got away. Danny risks everything, including his career, to protect Skylar from her fanatical ex. Will Danny take advantage of his second chance with Skylar? Can he keep her from becoming another statistic?
Skylar Long returns to her hometown to escape an abusive relationship. When her ex-boyfriend assaults her, she is rescued by the local sheriff. Skylar fondly remembers Danny from their high school years. However, she never expects their long dormant attraction to flare to life. Skylar's obsessive ex threatens to ruin their budding relationship. Can Skylar and Danny thwart her ex-boyfriend and his powerful family? Or will she be forced to live a life of fear?
I am so happy that Danny finally received his deserved happily-ever-after. He is such a selfless man, who often ignores his own health and needs in order to help others in need. I admire Danny's integrity. He believes in following procedures, the right way, to solve his cases regardless of the outcome. Danny understands the system fails more people than it helps, but he still believes in it. What I like the most about Danny is his belief in his friends. He knows his friends would help him with any grim situation that arises. They always have his back regardless of the danger.
Skylar is such an inspiration, especially for battered woman stuck in harmful relationships. She proves it is possible to escape such a life. I like how upfront Skylar is with Danny from the start. Danny's presence makes her feel secure enough to acknowledge the hard truth about her situation. I adore the fact that Skylar is not the type of female who likes pink. She and I have that in common. What I love the most about Skylar is how she knows what a great person Danny is. She recognizes the fact that he is one of the good guys, the complete opposite of her slimeball ex-boyfriend.
A COWBOY LIKE YOU is book four in Donna Grant's cowboy-themed, romantic suspense series, HEART OF TEXAS. The story can easily stand alone. The author does a splendid job of summarizing the events from the prior books without it being too obvious. However, to understand the dynamics between the hero and the North and Harper families, it is necessary to read the prior books.
A COWBOY LIKE YOU is a riveting tale about two people that fate gifts a second chance. I am still eagerly anticipating Jace or Cooper's book. Also, I hope the author plans to pair the fierce attorney Leslie with either Cash or Ryan.