A Cowboy Under the Mistletoe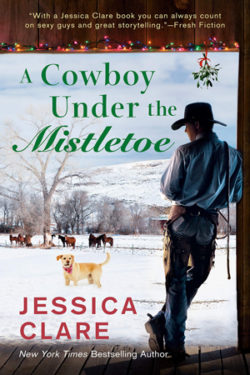 Author

Jessica Clare

Release Date

October 15, 2019

Publisher

Jove

ISBN/ASIN

9781984804006

Our Rating

Reviewed by

Jo
Our Review
A COWBOY UNDER THE MISTLETOE is the third book in THE WYOMING COWBOY series. All have been enjoyable reads, but this book started off a little slowly for me. Once we got into the heart of the story, it tended to fly with lots of ranching, small town life, and Christmas festivities. It was nice to return to Price Ranch and the small town of Painted Barrel, Wyoming, and meet up with characters we've met before.
Sage has never had a boyfriend because she thinks she's man-repellent, but she's always had a crush on loser Greg, who is hard to like. He's such a needy character. Sage thinks they are at least friends, but it seems to only be when he needs something. 
Jason takes a job at Price Ranch, knowing nothing about ranching. He's ex-Navy and was injured and suffers from PTSD. When they meet at her office unexpectedly, she's kind to him, knowing he's suffering from something (given his behavior) though she's not sure what. As they get to know each other better, there is definite chemistry between them.
I love how they complement each other and how important they become to each other. It's enjoyable to watch their friendship and relationship grow, even with their few setbacks. The addition of a service-type dog made the story richer, as it explored more of Jason's depths.
There are several stories going on at the same time but are interwoven seamlessly. The story has nice closure, as well as an epilogue, which takes place two years later and ties up the loose ends. The next book in the series, THE COWBOY MEETS HIS MATCH, isn't due out until June 2020. I look forward to reading it.
Jessica Clare is a pen name for author Jill Myles, and I've enjoyed books she's written from several different series. I look forward to reading more of her books.