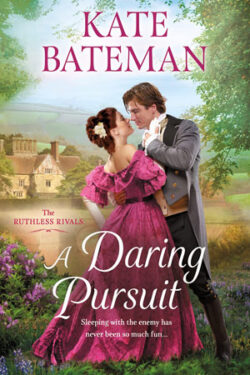 Author

Kate Bateman

Release Date

May 24, 2022

Publisher

St. Martin's Paperbacks

ISBN/ASIN

9781250801609

Our Rating

Reviewed by

Raonaid
Our Review
Tristan Montgomery is the heir to a barony. He has always disapproved of Cary Davies' deportment. The fiery woman likes nothing more than to ruffle his feathers. She is everything Tristan does not want or require in a wife. By accident, he learns about Carys' secret. Tristan wants nothing more than to help Carys overcome her cynical outlook on intimacy. He readily agrees to her proposal. Soon the two find themselves entangled in a treasonous plot. Can Tristan help Carys escape her blackmailer? Will he realize what she truly means to him?
Lady Carys Davies is the only sister to the new Earl of Powys. She likes to flout society's rules by wearing scandalizing outfits and behaving boldly. Carys has a secret that could damage her reputation among the ton. It is the main reason she plans to avoid marriage. However, there is only one person who sees through Carys' carefree and brash veneer: her personal nemesis, Tristan Montgomery. When he calls Carys out on her bluff, she proposes a shocking proposal. Can Carys melt Tristan's icy aloofness? Will they be able to bridge their families' age-old enmity to be together?
Tristan is a man of calm reserve and cool restraint. I love that the author paired him up with Carys. She is Tristan's ideal counterpart. Her chaotic and vibrant nature balances his stoical personality. I like how Tristan wants to help Carys conquer her skepticism on men and relationships. He may have ulterior motives, yet he wants to prove there is more to intimacy than what she experienced. What I adore the most about Tristan is his outrage on Carys' behalf. They may be adversaries; however, he hates that a man took advantage of her and scarred her from relationships.
I have always adored Carys' fiery and vivacious spirit. She is a woman who is not afraid to straddle the fine line between what is proper and what is scandalous. Carys does not care what society thinks about her or her unique tastes. I admire Carys' dedication to her family. She may defy propriety, but she knows when to step back before blackening her family's reputation. Also, Carys does not want to endanger her brothers by telling them about her blackmailer. What I like the most about Carys is her feelings about animals. She is a self-proclaimed champion for abused or neglected animals.
A DARING PURSUIT is book two in Kate Bateman's historical romance series, RUTHLESS RIVALS. The story can stand alone; however, I recommend reading the first book, A RECKLESS MATCH, to understand the longstanding family feud between the Davies and the Mongomerys. Prudence and Constance, Tristan's spinster aunts, really make the story entertaining. Their candor and antics made me laugh. I cannot wait to read their hijinks in the next installment.
A DARING PURSUIT is a winsome enemies-to-lovers tale. I hope that Harriet and Morgan's book is next. I have been sensing something brewing between the two since book one!
A recommended read.