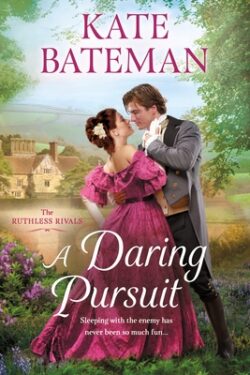 Author

Kate Bateman

Release Date

May 24, 2022

Publisher

St. Martin's Paperbacks

ISBN/ASIN

9781250801609/B09HPMC2Y6

Our Rating

Reviewed by

Michele Rioli
Our Review
Steamy and edgy, A DARING PURSUIT is an extremely entertaining read. Ms. Bateman delivers another winning story in the Ruthless Rivals series. This tale stars Carys Davies who is a stunning lass with an impetuous, forthright personality. She loves to wear scandalous clothes and acts bodacious to hinder prospective suitors, since she is being extorted by a man she once loved. Only one man captures her heart now and it's Tristan Montgomery, her clan's rival.
Tristan Montgomery, a powerful, magnetic man, needs to find a reputable lady to wed. Only, Tristan is drawn to the outspoken redhead, Carys. Her unpredictable personality turns him on like nobody's business. When Tristan finds out a rake is fleecing her, he is furious. They might have quarreled over the years, but Carys surprises Tristan by asking him to show her about courting since she's taken a stance on single-hood. Tristan unexpectedly agrees to her plan. Only time spent together turns their already hot attraction even hotter. Their enemies-to-lovers with benefits turns difficult. Pretending they aren't a couple is harder each time they get together. Can they safeguard their hearts against the ever-increasing love they have for one another?
A DARING PURSUIT is about a secret passion smoldering between two opposing lovers from rival clans. Carys Davies and Tristan Montgomery are secretly seeing each other and find themselves embroiled in a blackmail plot. Will they trust one other with their secrets, hearts and their lives? Ms. Bateman pens another suspenseful romantic story filled with twists and turns, and many spicy situations. I thought I had the plot figured out and then it went in another direction! What a fun, tense, lovely plot! There are many people from book one and some new ones as well. The squabbling stars are clearly made for each other and make a perfect couple. I always enjoy Ms. Bateman's stories and this one is a stunner! A DARING PURSUIT is audacious and flirtatious!