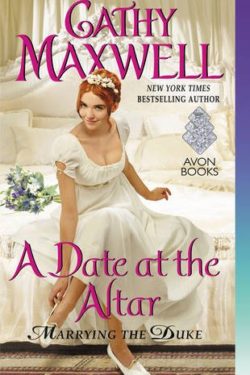 Author

Cathy Maxwell

Release Date

October 25, 2016

Publisher

Avon

ISBN/ASIN

0062388657

Our Rating

Reviewed by

Dottie
Our Review
Actress Sarah Pettijohn had sworn never to play the part of The Siren again, but here she is on the stage for one night. For years, she rewrote plays for others who used her talent without giving her any recognition. The owners of the theater promised to produce her play, if she would play the Siren for one night in a revival of the Naughty Review. Having learned years ago that men only see what they want to, Sarah hides her assets by wearing a nude shift under her diaphanous costume. To protect her identity, she wears a bejeweled mask, loads of face paint and a dark wig to hide her recognizable red hair. Sarah meant to make the performance a quick one, but that was before she saw a man from the past in the audience, a man she loathed, the Duke of Baynton, who was, to her, the Duke of Puffed Up Consequences. After all, according to him, he never attended the theater, except for the occasional Shakespeare, yet here he was.
Gavin Whitridge, the Duke of Baynton, is a straight-laced man, who longs for a woman, but he is adamant about remaining pure, just as he expects his wife to be, until he meets the right one. Having been jilted twice in his search for a wife, Gavin is sure the other women wonder what is wrong with him. The last of those women had been Sarah Pettijohn's niece, Charlotte, who ran off and married someone else. His dealings with Sarah at the time were a bit hostile since she seemed to think him too judgmental and full of himself. But then he found her to be the most obnoxious, opinionated woman he had ever met.
Detesting crowds, Gavin is only at the theater because he believes his trust in his friend Rovington is being betrayed. Rovington's gambling problem has worsened since Gavin tried to help by finding him a well-placed position and now the miscreant is placing bets that he will bed The Siren. Gavin is determined to put a stop to it, but when he sees The Siren, he is mesmerized and finally understands why the theater is so crowded. But when she turns and looks right at him, he realizes it is Sarah. He would recognize those green eyes anywhere, despite her disguise. But when her wig comes off, releasing her waist length deep red hair, mayhem transpires, leaving Gavin to come to her rescue.
There is one thing that Gavin can always count on; that Sarah will always tell him what she thinks. But there is something about her that gets to him and stirs his blood. A bit insecure and awkward with women, he believes that she may be able to help him find what he desires most, a match like those his brothers have. So, he makes her a bargain; he will back her play if she will teach him about love and winning a bride. However, he never counts on the feelings growing inside him as he spends time with her. Is she the one he has been seeking all along?
A fun tale, A DATE AT THE ALTAR, the third book in New York Times bestselling author Cathy Maxwell's MARRYING THE DUKE series, is a witty, passionate historical romance that I enjoyed immensely. After seeing Sarah perform as The Siren, Gavin's interest in her increases. If he can get her to be his mistress, he might gain a bad boy reputation that will help him with the ladies. But will she agree to his plan? After all, she is not mistress material. She has her mind set on being a playwright, not putting a stain on her reputation, but there are others at the theater who need her help. Perhaps, she and Gavin can help each other, but neither one expects the explosive chemistry between them.
I enjoyed all three of the books in this series and to get a real feel for Gavin's character, I believe you should start from the beginning and read each one to see what he goes through. Still, this book can be read as a standalone without difficulty. I am a fan of Ms. Maxwell's work and looked forward to this novel. It did not disappoint. Treat yourself to a copy of A DATE AT THE ALTAR and lose yourself in the world of Cathy Maxwell. While you are at it, you might also want to pick up the first two novels in this series, THE MATCH OF THE CENTURY and THE FAIREST OF THEM ALL.