A Death At The Yoga Cafe, A Keeley Carpenter Mystery, Book 2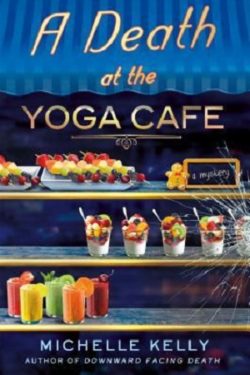 Author

Michelle Kelly

Release Date

January 31, 2017

Publisher

Minotaur Books

ISBN/ASIN

9780451475985/B01HW6ULC6

Our Rating

Reviewed by

Michele Rioli
Our Review
A DEATH AT THE YOGA CAFE is a kitschy, cozy murder mystery novel with high octane fun involving a cute yoga instructor named Keeley Carpenter, who is the proud owner of a veggie cafe'. The town residents are flocking to Keeley's shop and she is very content. Her mom disapproves of her business but Keeley resigns herself to the fact that her mom isn't happy with anything she does. So, when her mom declares that she is coming to visit, Keeley is flummoxed. Keeley smells something fishy.
Then, Keeley's adversary, beautiful restaurant owner Raquel, is seen bickering with the town mayor, outside of Keeley's shop. He is Raquel's boyfriend and later he is found dead. Who would stoop to murder? Raquel gets pinned with the murder rap and peppers Keeley with requests to help clear her name. Really? Keeley isn't so sure about helping Raquel. But, deep inside she doesn't feel that Raquel would hurt anyone. To Keeley's frustration, her scrumptious boyfriend, Ben Taylor, an undercover cop, strictly orders her to not get involved.
Between running her cafe', teaching yoga, dealing with her mom's disruptions, analyzing her relationship with her over-protective boyfriend, does Keeley even have time to snoop? If Ben has any say so, she won't! Trouble is brewing on the horizon. Small town gossip mills are like cups running over!
A DEATH AT THE YOGA CAFE' is a lively blend of relationship issues, with a dollop of unexpected surprises, a big dose of zany characters and a good old-fashioned mystery to solve. A yoga instructor, Keeley Carpenter, who has the instincts of a blood hound, runs a veggie restaurant in a sleepy English town. Many twisty turns will keep the reader on their toes trying to solve this madcap murder mystery of a mayor who is snuffed out. Keeley's handsome boyfriend Ben, who is a policeman, discourages her from nosing around. Especially, since Keeley tends to get herself into thorny situations. Delicious recipes and yoga instructions are added throughout the story as well. Ms. Kelly wittily writes an intriguing tale that oozes charisma and a homespun feel. What I liked most is Keeley and her ah-ha moments! She might have confidence issues but she has a heart of gold. A DEATH AT THE YOGA CAFE' is a breezy murder mystery that thickens and then puffs up just like eclairs. Simply delicious!