A Firefighter's Christmas Gift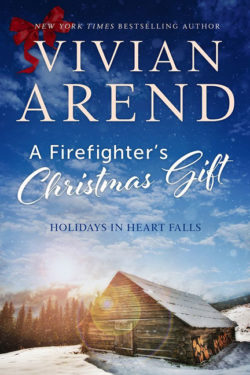 Author

Vivian Arend

Release Date

September 11, 2018

Publisher

Arend Publisher Inc.

ISBN/ASIN

B078KQN4Q1

Our Rating

Reviewed by

LJT
Our Review
If you are a holiday romance fan, then you will be in for a real treat with A FIREFIGHTER'S CHRISTMAS GIFT by Vivian Arend. I have read many of Ms. Arend's books in the past, and this is a wonderful addition to her collection. The characters are sincere, and the ranch setting is replete with four cuddly kittens, sleigh rides through the snow, and lots of mistletoe. This is the first book from the author's brand new series, HOLIDAY IN HEART FALLS, and it can be enjoyed as a standalone.
Office cleaner Hanna Lane and Fire Chief Bradley Ford have been sporadically dating for a short time. Hanna's main priority is her eight-year-old daughter, Chrissy, whom she loves with all her heart. Brad lives and looks after his dad, who was recently injured from an accident. Brad's dad volunteers at Chrissy's school and strongly resembles Santa Claus at times. Hanna has no family to speak of, so when when her apartment burns to the ground, Brad offers to take her and Chrissy in. Their time together evolves into hot, sexy times, and a new family for all.
This is both a hot and emotional holiday romance. Hanna's positive attitude is inspirational, and Brad's patience and ability to be supportive for everyone he cares about is swoon worthy. Hanna and Brad are a very sexy couple, both in and out of the bedroom. Chrissy is as cute as a button, and her excitement for the holiday season is contagious. Overall, this is a well-written novel with a captivating plot and amazing characters. I am truly looking forward to the next book in the series.