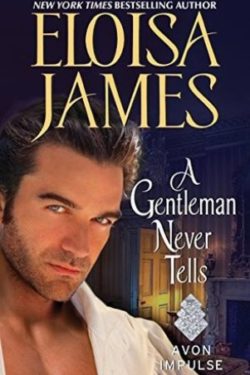 Author

Eloisa James

Release Date

July 26, 2016

Publisher

Avon Impulse

ISBN/ASIN

9780062573087

Our Rating

Reviewed by

Jo
Our Review
A GENTLEMAN NEVER TELLS is a quick paced read at only one hundred and sixty pages. I was able to read it in only a few hours and in just one sitting.  Although this is the first book in the ESSEX SISTERS series that I've read I was able to catch the flow immediately and did not feel lost at all since enough background information on the characters was given.  The book is set in England in the early 1800's and is an historical romance.
There is love at first sight on the part of the Honorable Oliver Berwick when he spots Lady Troutt, better know as Lizzie, at her sister Cat's manor house where he and his niece, Hattie, have been invited to a party.  Lizzie has been widowed for almost two years and it was such a horrible marriage, if it can even be called that, that she plans on never marrying again and giving a man possession of herself or her things.  But all that starts to change or does it when Oliver, a life long bachelor in his early thirties, is immediately attuned to her moods, her thoughts and feelings?  
Lizzie prefers being holed up and reading novels rather than participating in social activities no matter how much her sister tries.  When she's forced to attend dinner and a croquet game inside the manor she feels something she's never felt before – flirting and an attraction to a man.  She feels lighter and that changes her views on a few fronts.  While she's not yet ready to forgive her father for wanting her to marry to get a title and what he knew about her husband to be she does seem to be softening.  Watching Oliver's pursuit of Lizzie was fun to watch and there was definitely a chuckle or two where they were concerned or whenever his niece, who is wise beyond her years, was involved.
There are family and friends, secrets, apologies to make, descriptions of the manor and the food, hurt, fear, anger, sadness, confidence, thoughts to be shared, kisses, coaching, beautiful gowns, happiness, loving and love.  There is wonderful closure especially with the short epilogue that tied up the loose ends.  At the back of the book there were excerpts from MUCH ADO ABOUT YOU and A MIDSUMMER NIGHT'S DISGRACE from THE OFFICIAL ESSEX SISTERS COMPANION GUIDE that left me wanting more.
This is the first book that I've read by James but it won't be my last.  I look forward to reading the first four books in the ESSEX SISTERS SERIES, MUCH ADO ABOUT YOU, KISS ME, ANNABEL, THE TAMING OF THE DUKE and PLEASURE FOR PLEASURE. I will also be adding her other books to my always growing TBR pile.  If you like historical romances set in England James might just be an author for you.