A Gentleman's Guide to Scandal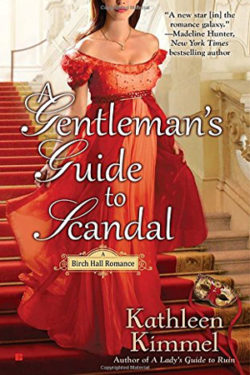 Author

Kathleen Kimmel

Release Date

June 1, 2016

Publisher

Berkley Sensation

ISBN/ASIN

9781101986813

Our Rating

Reviewed by

Brooke Wills
Our Review
Colin Spenser, Marquess of Farleigh, can't keep longing for Lady Elinor Hargrove forever. It's been five long years since she announced her engagement to another, and even though she is now alone, she's also his best friend's sister. His plan: to marry another who at least will be a suitable wife.
Elinor Hargrove has lost her best friend, Marie, under mysterious circumstances while living in India. When Marie's husband returns to England, she is determined to learn the true story of how Marie died and make her husband pay if he was involved in any way.
Unfortunately, Marie was also Colin Spenser's sister, and the last thing Elinor needs is to have contact with the annoying man of her childhood. But it seems he's intent on learning the same details as she but for different reasons. Together they join forces to learn secrets of the past that could destroy them both.
A GENTLEMAN'S GUIDE TO SCANDAL by Kathleen Kimmel is the follow-up book to A LADY'S GUIDE TO RUIN. Her sophomore effort is witty, fast-paced and clever. The characters are well drawn and appealing; the dialog between them is definitely a strong talent of Ms. Kimmel. This is one of the rare books that even when you have to put it down for a bit, you think about and can't wait to pick up again. I am very much looking forward to tracking down the first book, A LADY'S GUIDE TO RUIN, and shall cross my fingers that there will be more coming from this wonderful author.