A Guide To Being Just Friends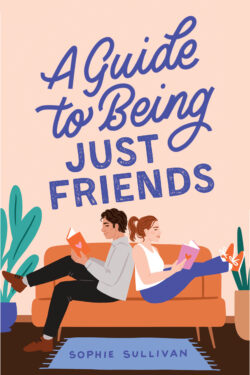 Author

Sophie Sullivan

Release Date

January 17, 2023

Publisher

St. Martin's Griffin

ISBN/ASIN

9781250624208/‎B09Y479G6X

Our Rating

Reviewed by

Michele Rioli
Our Review
A GUIDE TO BEING JUST FRIENDS is a simmering romance about a couple interested only in being friends. Each have soured on love and commitment after painful results with exes. Plus, Wes' parents fought a lot, are divorced and it emotionally affected him. He is the oldest of two younger brothers. He protected his brothers from their dad, receiving the brunt of his dad's wrath. Wes recently relocates to San Verde, California to connect with his brothers and dodge his dad's demands. He joins his brothers in their new business.
Hailey is also new in town, having recently escaped a difficult relationship. She is getting her new business, By The Cup salad shop, up and running. At the bakery next door, she meets Wes in a mix-up blind date that wasn't even supposed to happen. Wes has foot-in-mouth disease, they part upset, hoping never to meet again. Only fate has other plans!
Hailey doesn't want any distractions, focusing on her business. Same goes for Wes. He is solely invested in his brother's business. Neither wants anything to do with love and are happy being friends. Only, Hailey makes heart eyes whenever Wes is around. Wes is glued to Hailey's side when she's near. It's obvious to everyone but them how perfect they are together. Will these two obstinate love birds ever get together?
A GUIDE TO BEING JUST FRIENDS is a rule book on how to be friends with the one you love. Wes and Hailey are best friends. Neither wants anything more, convinced commitment leads to disaster. As they grow closer, it becomes harder to stay in the friend territory when they obviously want to kiss! This is a charming slow-burn romance. Ms. Sullivan does an excellent job leaving the reader to wonder if they ever become lovers. This is the last book in her series and I loved it! I enjoyed getting a glimpse into the brothers' lives as well. A GUIDE TO BEING JUST FRIENDS is swoony with just enough sauce. Delightful!