A Harvest of Love (The Promise Glen Series Book 3)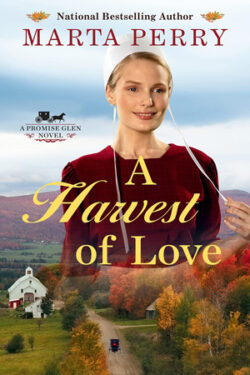 Author

Marta Perry

Release Date

October 26, 2021

Publisher

Berkley

ISBN/ASIN

9781984803238

Our Rating

Reviewed by

Jo
Our Review
A HARVEST OF LOVE is the third book in THE PROMISE GLEN series, and it did not disappoint. We're reunited with characters we've met before, along with many new ones. There are Amish businesses in the small town that are central to the plot and the story has a wonderful flow to it.
This is Dinah and Jacob's story. Dina's a widow, and her marriage wasn't as happy as she's let others think it was. Jacob's sister has jumped the fence and gives guardianship of her son to him and Dinah. They have no idea where she is, let alone that she was pregnant. Jacob and Dinah have shops in town that share a common wall and are neighbors who have grown up together. The pair become emotionally involved due to their new responsibility. Neither thinks they are cut out for married life and a family, but that could change.
There are wonderful descriptions throughout the story that are both colorful and vivid. The story is filled with laughter and tears, as well as family and friends, all tied together by a baby who captures everyone's hearts. This is an emotional read that really pulls at the heartstrings. Though there is some predictability to the story, it's filled with enough surprises to make it enjoyable. Once again, the inclusion of the glossary of Pennsylvania Dutch words and phrases is a nice addition along with the recipes at the end of the book.
Ms. Perry has only hit my radar a short time ago. I love her writing and have added many of her books to my TBR pile. I can't wait to delve into them all.