A Heart of Blood and Ashes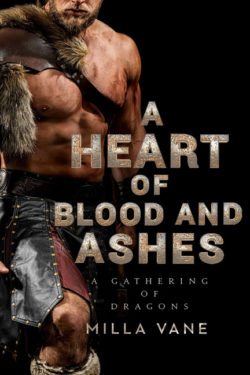 Author

Milla Vane

Release Date

February 4, 2020

Publisher

Berkley

ISBN/ASIN

9780425255070

Our Rating

Reviewed by

SJ
Our Review
In A HEART OF BLOOD AND ASHES, the first in A Gathering of Dragons series, author Milla Vane crafts an outstanding fantasy romance where barbarians battle in war and the gods are real. This recommended read is rich in emotion and well-crafted storytelling. The characters are deep, the emotions they feel both raw and tender. It's an exceptional romance well worth several reads to catch all the nuances.
The barbarians have a strained alliance, working together to fend off an even greater enemy in the savages and the evil left behind by the Destroyer. But when the Parsathean king and queen are killed, it's up to their son, Maddek, to find justice–or in his eyes, vengeance.
Maddek has been away protecting his people, and upon his return, finding his parents murdered in a terrible betrayal, he decides to avenge them by taking hostage the daughter of their murderer.
Yvenne is not as weak or frail as she appears. Though small and physically beaten down, she's actually a woman with power, the last in a line of warrior-queens, and she knows exactly what happened to Maddek's parents, though she's forbidden to talk about it.
So begins a story filled with feeling and action. Watching Maddek process his emotions and grow from a warrior to a man who might be king is exciting, as thrilling as watching Yvenne blossom from a beaten-down woman hiding inner strength into a kingmaker, a warrior-woman blessed by the goddess.
Milla Vane does an outstanding job of building a world in which different barbarian kingdoms politic with each other while a son tries to do right by his people. And the growth of Yvenne, knowing what she came from, what she suffered, and how she acts once "freed," clearly shows the maturity of such a deep, emotional character.
Such a thrilling, romantic–yes, and creative novel. A HEART OF BLOOD AND ASHES sets the reader up for so much more in this lush, rich world of strength, where fight makes right and true power comes from not only the outside, but within.
A definite must for fantasy lovers.
Recommended Read!