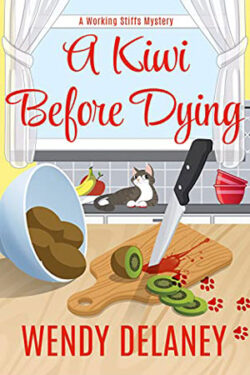 Author

Wendy Delaney

Release Date

June 10, 2021

Publisher

Sugarbaker Press

ISBN/ASIN

B097235G3M

Our Rating

Reviewed by

book lover
Our Review
A KIWI BEFORE DYING by Wendy Delaney is book 8 in the Working Stiffs mystery series. 
Charmaine (Char) Digby is a human lie detector—she can tell if someone is lying or telling the truth by reading their body language. She works for the district attorney's office where they put her skills to work, but this time she's using those skills to solve the murder of Trevor Constantine.
As Char works to solve her latest murder mystery, she has help from her grandmother, great-aunt Alice, and Lucille, a waitress and local busybody. She also has her hunky boyfriend, Steve Sixkiller, a detective, working to keep her out of trouble.
A KIWI BEFORE DYING kept me turning the page. If you love cozy mysteries, the Working Stiff Mystery Series has mystery, humor, and a touch of romance to keep you up late at night reading.