A Mackenzie Clan Christmas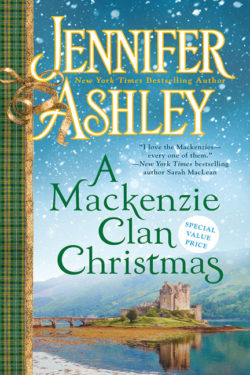 Author

Jennifer Ashley

Release Date

October 29, 2019

Publisher

Berkeley

ISBN/ASIN

9781984805584

Our Rating

Reviewed by

DianaMcc
Our Review
If you've read the Mackenzie books by Jennifer Ashley you'll probably really enjoy this Christmas book A MACKENZIE CLAN CHRISTMAS. This book contains two novellas. I was not thrilled with the first story. A Mackenzie Yuletide is a new story and the other is A Mackenzie Clan Gathering which was published in 2015, and previously reviewed.
A MACKENZIE CLAN CHRISTMAS takes place in 1898 around the Christmas holidays.  There is a mystery and a ghost and a very large cast of characters. Not having read but one of the Mackenzie books, I found it hard to keep track of all the characters, names of their children, and who belonged with whom.
Ian Mackenzie wants to buy a special gift for his wife, Beth, for Christmas. He faces many obstacles in his quest to purchase the priceless necklace.  Others are after the same gift. It's very romantic how Ian pursues the priceless necklace. His children join him in the search.  
All the couples in this story are happily married. And all do special romantic things for their spouses.
The best thing about this novella is that I got a good sense of who Ian Mackenzie is and that while highly intelligent he also suffers from something, possibly Autism or something similar.
When I read the second novella, A Mackenzie Clan Gathering, which centered mainly on Ian Mackenzie, the story was more enjoyable (as I got to know Ian from the first story). This story takes place in 1892. The clan has gathered to celebrate Hart Mackenzie's birthday. Thieves come in the night and steal a fortune in rare art work and sabotage the whiskey still. Everyone searches for the missing art. Ian gets lost and falls down into an abandoned cellar. Then the family searches for the art and Ian.
While Ian is trapped in the cellar, he has some personal introspection and realizes how much he loves his wife and children.
Beth was a widow before Ian married her. When her brother-in-law from her first marriage shows up he says he has a cure for Ian's mental problem. This was an interesting aspect of the story.
I give the first story, A Mackenzie Clan Christmas, 3 hearts and A Mackenzie Clan Gathering, 4 hearts.