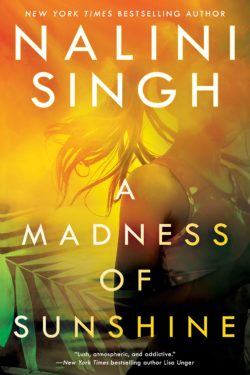 Author

Nalini Singh

Release Date

December 3, 2019

Publisher

Berkley

ISBN/ASIN

9780593099087

Our Rating

Reviewed by

Raonaid
Our Review
Will Gallagher is the only police officer in Golden Cove, a small coastal town in New Zealand. The townspeople see him as an outsider, but that does not stop Will from doing his job. When a local girl vanishes, he uses every resource available to find her. Will even enlists Anahera's help with the residents. Something about Anahera makes Will feel alive again. Can Will find the missing woman before it's too late? And what other dark secrets is Golden Cove hiding?
Anahera Spencer-Ashby is a classical pianist. She returns to her birthplace to lick the emotional wounds left by her newly deceased husband. Anahera notices little of her hometown has changed; however, the same cannot be said about its people. When a local woman disappears, she offers to help the town's only officer to monitor and question the town folk. The disappearance also dredges up an unsolved cold case. Can Anahera help Will with both cases? Will Golden Cove's deadly past revisit the present?
Will is one of those characters you cannot help but like. He has not escaped the world's evil unscathed. I love how Will does not resent his fall from grace, nor does he regret the action that resulted in his demotion. Will, instead, devotes his all to his new position and the inhabitants within his jurisdiction. What I adore the most about Will is how he understands Anahera's inner turmoil. He finds common ground with her. Plus, Will never once gave her pity or empty platitudes.
I love the uniqueness of Anahera's name. It did take me a while to warm up to her. I admire how Anahera did not allow her father and late husband to color her view on men. The two may have wronged her, but she refused to allow their actions to diminish her spirit or sense of self. I like how Anahera's experiences opened her eyes to the needs of others. She remembered how it felt in a new place far from home surrounded by strangers. Anahera refused to let another feel that same sense of isolation. What I love the most about Anahera is how she sees a kindred spirit with Will. Will's patience and presence allows Anahera to finally release all her pent-up emotions.
A MADNESS OF SUNSHINE is a romantic suspense standalone by Nalini Singh. I am a big fan of the author's paranormal books, so I wanted to try out her romantic suspense. My only complaint is the story's pacing. The slowness sometimes made it difficult to keep interest in the storyline or the characters. However, I like how the novel takes place in New Zealand. It is part of the world rarely visited in romance books.
A MADNESS OF SUNSHINE is a poignant tale of two broken souls finding solace and love in the midst of turmoil. I hope the author considers writing more stories set in New Zealand.