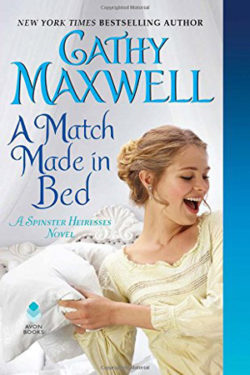 Author

Cathy Maxwell

Release Date

April 17, 2018

Publisher

Avon Books

ISBN/ASIN

9780062655769

Our Rating

Reviewed by

Rhea
Our Review
A MATCH MADE IN BED is a story of a young woman who does not conform well to the rigors of traditional London society. Cassandra Holwell has been through three Seasons and has yet to find a husband. Her strong-willed ways and an ability to think for herself have cost her a quick wedding according to her stepmother. Cassandra longed to have a home of her own but wanted it on her terms. She dreamed of entertaining not the brainless aristocrats of London society, but the true thinkers, the writers, and those who have definite opinions about the way things should be. She wanted to have stimulating conversations and for her home to be known as THE place for intellectualism.
The solution to her dilemma appears to lie with childhood friend, Soren York. Soren's York family has long been enemies of the Holwells and Cassandra's father makes it very clear that Cassandra is not to consort with them. But when an inconvenient chance encounter compromises Cassandra's marriage prospects even further, Soren looks to be her only hope.
Soren has his eye on Cassandra. She was a spirited, rich heiress, who had her own thoughts. Having watched her grow from a little girl who was a quiet bookworm to a beautiful young lady, he knew she would be the perfect wife for him. He just needed to convince Cassandra of that.
Cathy Maxwell sets up a world where deceit is the norm and love is a fairy tale, but has created Cassandra as an innocent young woman whose spunk enables her to push through the dark shadows of her family and slowly create the dream world she has always wanted. This story is not just a romantic tale; it is also an account of how it is possible for women to successfully mold their own future.