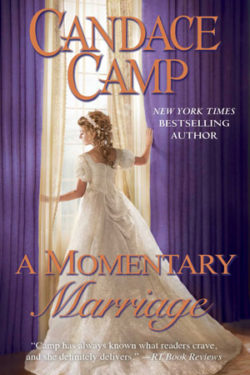 Author

Candace Camp

Release Date

July 25, 2017

Publisher

Pocket Books

ISBN/ASIN

9780451475985

Our Rating

Reviewed by

Michele Rioli
Our Review
A MOMENTARY MARRIAGE is a historical romance novel slyly woven with a gripping mystery. You see, a certain gentleman named James de Vere is basically business-like. His late hateful father, left the complete family estate, Grace Hill, and property possessions to him. James, snappy, cold, hardheaded, but concerned for the estate's holdings, must make some important decisions. Of late, he is failing in health, and needs to make decisions concerning his will. His family and relatives are money hungry and James decides that wedding a woman would spoil their plans. Ah yes…the woman whom he badly offended many years ago, Laura Hinsdale, will do nicely. She was engaged to James' cousin Graeme, and he cuttingly retorted that she wasn't titled enough for Graeme. How James is going to convince her to marry him, he doesn't know. Will James regret his decision later?
Lovely, level-headed, Laura, a doctor's daughter is dazed. It is mere weeks after her father's death, and the bozo she detests is at her house offering matrimony. Funny, James does not look well. He explains his health is deteriorating and was expecting her father's aid. James is disheartened because now there isn't any hope left. He tells Laura about his quandary and her heart softens a tad towards him. He offers Laura a home, money, food and to settle her father's debts in exchange for a union of practicality. Laura, with a practical mind, accepts his proposal, since basically she is parent-less, homeless and without money. What does the future hold for them?
James' condition declines, and Laura stays at his side, refusing to let him suffer. Unexpectedly, she isn't satisfied anymore with just a contract of convenience. Drat it all! She is really fond of handsome, complex James, a man she once disliked. While spending time tending to his condition, she now understands the man underneath, who is just afraid of affection. When her inquisitive nature stumbles upon a surprising development within James' family home that someone wants him dead, Laura is shell-shocked! Who would want to kill James?
A MOMENTARY MARRIAGE is a surprising story filled with many twists and turns and a budding romance. There is dashing, devilish James de Vere and gorgeous, giving Laura Hinsdale who marry to squelch money hungry family and relatives. They unluckily learn that someone is out to get James, possibly Laura too. When they return to Grace Hill married, the family is stunned and leery. There are many questionable characters, with hidden agendas. Ms. Camp does an expert job of creating a complex plot, that doesn't reveal its secrets until the very end. I absolutely loved the sassy Laura and how she stands up for herself to James and his family. James is bedeviled by her beauty and strong beliefs. Their relationship is rocky and trust is a tricky issue but their feelings towards each other blossom. There is one surprise after another in this drama-filled story. Plus, there is James' loyal dog named Dem who protects him with his huge presence. The author expertly infuses humor, wit, suspense and romance to perfection. A MOMENTARY MARRIAGE is beautifully written with a lot of heart. Absolutely stunning!