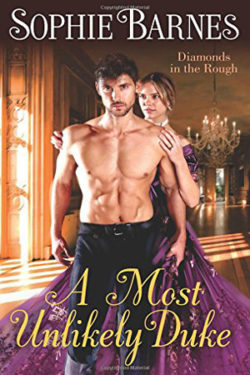 Author

Sophie Barnes

Release Date

June 27, 2017

Publisher

Avon

ISBN/ASIN

978-0-06-256678-2

Our Rating

Reviewed by

Vanessa E.
Our Review
A MOST UNLIKELY DUKE is a fantastic story to lead off Sophie Barnes' newest series, Diamonds in the Rough! When tragedy forces Raphe Matthews and his sisters from the comfort of their family's home at a young age, he learns to do whatever he must to keep his sisters safe in a cruel and unforgiving world. Then, literally overnight, he finds himself the 8th Duke of Huntley, throwing them back into the world of wealth and privilege they remember little of from their childhood. 
It is the kind tutelage of their lovely neighbor, Lady Gabriella Radcliffe, who helps Raphe and his sisters prepare themselves for entrance back into Society. When certain sticklers of propriety, including Gabriella's parents, try to thwart Raphe's attempts at acceptance by his fellow peers of the realm, Gabriella reasserts herself to come to their aid, gaining the admiration of Raphe. It is the tempered build-up of their mutual attraction that the reader will truly enjoy. You will root for Raphe and Gabriella to foil all impediments to their happiness and celebrate once they finally succeed.
I couldn't put this book down and now am eagerly anticipating the next story in this wonderful series.
This is definitely an RJ RECOMMENDED READ!