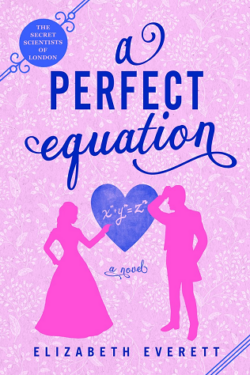 Author

Elizabeth Everett

Release Date

February 15, 2022

Publisher

Berkley

ISBN/ASIN

9780593200643/B0951MYZFR

Our Rating

Reviewed by

Michele Rioli
Our Review
Ambitions are threatened and romantic sparks sizzle in, A PERFECT EQUATION, Ms. Everett's third novel in The Secret Scientists Of London series. Athena's Retreat is a haven where lady scientists safely experiment and invent, far from judgmental opinions in London society. Miss Letitia Fenley, a pretty, petite lady, and Viscount Greycliff, a determined, dashing man, are summoned by their friends, Violet and Arthur. They intend to travel and require someone to oversee the retreat and the talented, eccentric women. Hopefully, nothing will go wrong.
Grey's political ambitions and Letty's topnotch mathematical abilities clash as a scary men's rights group threatens the ladies of Athena's retreat. There is a definite attraction between Letty and Grey. However, their tumultuous history and an unfortunate blemish in Letty's past stands between them. Is it possible to keep the retreat open? Will Letty and Grey recognize that they are meant to be?
A PERFECT EQUATION offers a big dollop of romance, a dash of suspense, a smidgen of humor, and a batch of quirky characters. I was hooked from the start as Letty and Grey fight it out with their opposing personalities. Their relationship is a hard won battle. There is plenty going on, between suffragist groups, a math competition, political aspirations, dastardly plans and more round out this immensely entertaining plot. Ms. Everett's stories ooze charm and charisma, that you will immediately fall in love with the characters. I adored Letty and Grey's relationship and their smart-alecky comments. It's plain to see how right they are together, but it takes them a while to find that out. I would love to have a tall, strapping man like Grey protect me! A PERFECT EQUATION is smart, sexy and scorching. Masterful!