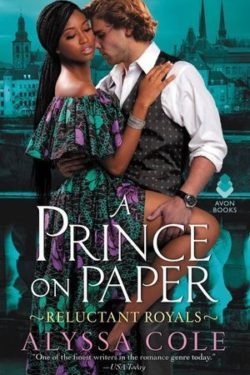 Author

Alyssa Cole

Release Date

April 30, 2019

Publisher

Avon Books

ISBN/ASIN

9780062685582/B079RBRRF2

Our Rating

Reviewed by

Michele Rioli
Our Review
When life comes a calling, Johan von Braustein steps in to become A PRINCE ON PAPER, to deflect attention off his brother, Lukas, who is heir to the throne. When Nya Jerami literally bumps into him on a plane, Johan's life goal shifts into the romantic realm after laying eyes on the fetching babe. He has always admired Nya's beauty, but they were never friends. Something inside him stirs or is it just indigestion?
Nya escaped her home in Thesolo, away from her abusive, manipulative father, to New York City. Relying on computer games for a make believe world of romantic princes, Nya wonders if she will ever find her own prince charming. She reluctantly returns home to attend a royal wedding in Thesolo. Enroute on the royal plane, she finds herself in an embarrassing situation with Johan, the handsome hunk whom she hates. What riles her most about him is his smirky attitude. Heaven help her, because he really is a dashing, handsome man!
A referendum threatens Johan's brother, Lukas' future, and he steps in to hopefully swing all paparazzi in his direction. After his encounter with Nya, Johan comes up with a scheme to announce a fake engagement, so Lukas is left alone. Nya and Johan both have impaired romantic track records. After spending the chance close encounter with Nya, desire fills his being. Does Nya go along with his harebrained scheme? Do they fall in love or is their attraction a temporary blip that eventually fizzles out?
A PRINCE ON PAPER is a delightful romantic comedy brimming with drama, family problems, a hard won romance, pretensions, role playing, and laugh-out loud humor. A shy beautiful lady, Nya, and a smart, suave man, Johan, carry out a fake engagement to protect his brother. Johan is a macho man with a heart of gold. He is my all time favorite leading man! Ms. Cole does a marvelous job building a believable romance in an otherwise sticky situation. The author expertly draws in family members with secret agendas, which brings realism and richness to the whole plot, like Nya's controlling father who is in prison. She matures quick when new details come out about him. The Reluctant Royals series is one of my favorites! This is a brilliant conclusion to a fantastic series. A PRINCE ON PAPER is smart, sexy and stunning! Way to go, Ms. Cole!