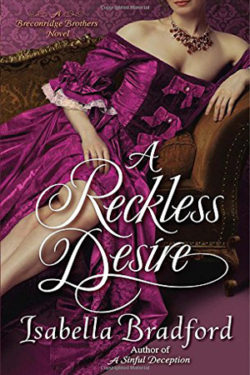 Author

Isabella Bradford

Release Date

March 1, 2016

Publisher

Ballantine

ISBN/ASIN

978-0-345-54816-0

Our Rating

Reviewed by

Diana Mcc
Our Review
A RECKLESS DESIRE is a page turner. Isabella Bradford penned a wonderfully unique story for this third book in the Breconridge Brothers series. It is a standalone book and can be read out of order. Rivers and Lucia's story is filled with humor, drama, and passion.
Lord Rivers Fitzroy sequesters himself in academic pursuits and finds comfort within the books filling his library. His only outside outlet is the entertainment of his favorite troupe of Italian dancers. One evening after the dancers are done, Rivers goes backstage to schmooze with the dancers. He and his friend agree on a wager. If Rivers can teach one of the dancer's cousins, who is a mousey, timid servant to the troupe, to be a better actress than the troupe's favored prima donna, Rivers will win the wager. To complicate the wager she must pass for a lady of the London stage
This is similar in premise to MY FAIR LADY. Once Lucia starts coming out of her shell, there is no stopping her. Down under that little creature is a beautiful, strong, and talented woman. Rivers is amazed by Lucia's ability to learn all the lines of "Hamlet". She blossoms under his guidance.
Her most secret desire is to be respected as a great actress, to show her family she is much more than the disappointment they think she is. This wager could be her chance at achieving that very desire.
Rivers takes Lucia to his country estate where the makeover begins. Elocution lessons, manners and behavior befitting a lady of status are added to the acting lessons so that Lucia can pass as a true lady of London. Lucia learns everything she can and takes full advantage of this opportunity to better her situation. She makes it clear she is not like her dancer cousins, and being seduced into becoming Lord River's mistress is not part of their bargain.
However the more time they spend together their friendship grows, and the better actress Lucia becomes Rivers doubts his ability to keep her at arms-length. Lucia has touched his heart. Lucia struggles with her desire to be a famous actress. She fights her ever increasing desire to be with Rivers, and fails.
Lucia realizes after eavesdropping on a conversation between Lord Rivers and his father that she would not be a suitable wife. Lucia never had brothers or sisters. She knows Rivers loves her, and loves his family, so she breaks their affair off thinking this would be best for him. She does not want to be the cause of a quarrel between Rivers and his family.
Ms. Bradford spins a fast-paced believable tale. She creates characters that stand out as different but lovable. Characters the reader wants to succeed. Ms. Bradford does a fantastic job weaving sexual conflict and tension, and while different than the norm, the characters come to life.
For a read that's captivating and entertaining, read A RECKLESS DESIRE. You won't be disappointed! Will these two from such different classes reunite? Does Lucia become a famous actress? Buy and read this enchanting book and find out!