A Reckless Love (Daughtry House)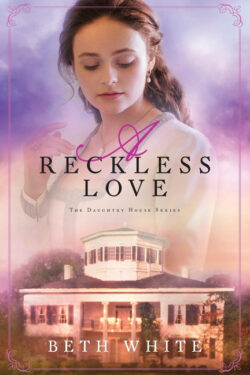 Author

Beth White

Release Date

June 2, 2020

Publisher

Revell

ISBN/ASIN

9780800726911

Our Rating

Reviewed by

Diana Mcc
Our Review
A RECKLESS LOVE is the third book of the Daughtry House series by Beth White. It is a standalone novel. This is a historical story taking place right after the Civil War. The author has researched this era in American history well. She weaves a lot of historical facts that I was unaware of in the story. If you are a history buff, that alone is a good reason to read this book.
Zane, an ex-soldier and now a federal marshal, has his hands full trying to protect witnesses while looking for a murderer. He has emotional burdens which he feels can prevent him from a relationship with Aurora.
Aurora has inherited a saloon, complete with two saloon girls. She sets to work changing the saloon into a boarding house and reforming the saloon girls.
Aurora and Zane are both strong personalities and at times seemed to get on each other's nerves. The author slowly allows us to witness them falling in love and shows how life was post-Civil War, the good and the bad. The love story between Zane and Aurora was sweet and well done. I enjoyed this book and recommend it as a good read.