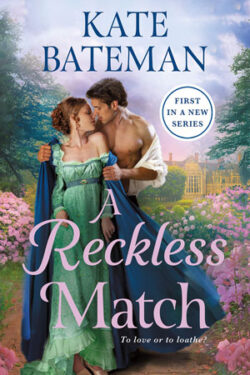 Author

Kate Bateman

Release Date

September 28, 2021

Publisher

St. Martin's Press

ISBN/ASIN

1250801567

Our Rating

Reviewed by

Raonaid
Our Review
Gryffud "Gryff" Davies, the Earl of Powys, retreats to his ancestral home to escape the Prince of Wales' ire. He arrives at the yearly pledge site only to find his childhood nemesis awaiting him. Maddie promises to liven up Gryff's exile. They agree to a tentative ceasefire when they discover smuggled goods on their jointly owned property. Their search for the smugglers puts their lives into jeopardy. Will Gryff and Maddie catch the smugglers? Can they finally resolve their families' centuries old rivalry?                      
Madeline "Maddie" Montgomery is the only daughter of Baron Lucas. Her family is on the brink of bankruptcy. Maddie pins all her hopes on winning the yearly pledge against the Davies. However, Gryff's arrival dashes her dreams. The two agree to work together to bring the smugglers to justice. Can Maddie and Gryff set aside their differences? Can love bloom from hatred? Or will their famlilies' rivalry keep them apart forever?
I absolute love Gryff's name! It is no secret that I adore unique names, especially when they are Gaelic. I could not help but fall in love with Gryff. I like his naughtiness. His pranks against Maddie were never mean-spirited or unfriendly. Their rivalry almost felt more competitive than hostile. What I love the most about Gryff is how he listened to Maddie. He never once ignored or disregarded her thoughts like most men in their social class would. Gryff recognized and admired her intellect and spunk.
I could not help but like Madeline. She is a well-educated bluestocking. I like that Maddie prefers her archeology interests over lavish gowns and fancy balls. She enjoyed her coming out; however, she quickly found the social whirl a bore. What I admire the most about Maddie is her determination to find a better solution to her family's financial troubles than marrying. She refuses to settle for a loveless match, especially with a man who will disapprove of her scholarly interests. Instead, Maddie wants what her parents had.
A RECKLESS MATCH is book one in Kate Bateman's historical romance series, RUTHLESS RIVALS. Kate Bateman is a new-to-me-author. The story's premise captured my interest. Boy, oh boy, it did not disappoint! I found myself devouring each page just to see what happened next. I will be checking out this author's other works in the future.
A RECKLESS MATCH is an entertaining tale of rivals setting aside their differences only to discover love. I cannot decide whose story I want next: Tristan and Carys' or Morgan and Harriet's. The wait is going to kill me!
A recommended read.