A Royal Kiss and Tell (A Royal Wedding)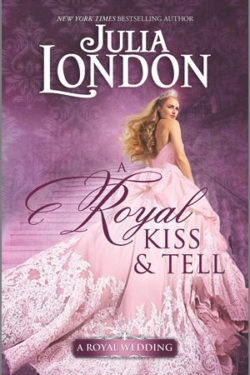 Author

Julia London

Release Date

May 19, 2020

Publisher

HQN Books

ISBN/ASIN

9781335136978

Our Rating

Reviewed by

Jo
Our Review
A ROYAL KISS AND TELL is the second book in the A ROYAL WEDDING series, and it kept my interest throughout. Not having read the first book, I wasn't at all lost and was transported to Helenamar in Alucia, London, and the English countryside in the mid 1800's.  
The royal wedding is a nice touch and gives some background information, showcasing the relatives with whom the main characters are related. The groom, His Royal Highness, is brother to the spare heir, Prince Leopold. Leopold is a rake and imbibes a little too much. He is definitely more likable when not drunk. Caroline, a friend of the royal family, doesn't observe protocol at all and says whatever is on her mind.
There are some sinister doings that Leopold is informed of, and he does his best to right some wrongs without letting the others know. Caroline is drawn in and helps him. The pair have chemistry, though they both protest too much when at the wedding, concluding they don't like each other. Yet they do.
The story revolves around intrigue and the wedding. There's a nice flow to the story and closure with the epilogue that takes place a month after the story ends.
Ms. London is an author I've recently started to read more of. I enjoy her regency romances as well as her contemporary books and look forward to reading book one in this series, THE PRINCESS PLAN, before reading the next book, A PRINCESS BY CHRISTMAS.