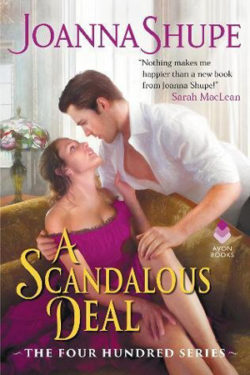 Author

Joanna Shupe

Release Date

April 24, 2018

Publisher

Avon

ISBN/ASIN

9780062678911

Our Rating

Reviewed by

Vanessa E.
Our Review
A book that starts with a quote from a famous California architect and fellow U.C. Berkeley alumna, Ms. Julia Morgan, who also happened to design the amazing Hearst's Castle along California's Central Coast, had me from the very beginning in Joanna Shupe's A SCANDALOUS DEAL.
Celebrated architect E.M. Hyde, Lord Cassel, is in failing health and dwindling finances. His daughter, Lady Eva Hyde, tutored by her father in architecture, has taken building assignments under her father's name in order to maintain their livelihood. Her current project is designing the grandest hotel New York City has ever seen for Mr. Phillip Mansfield. When Phillip insists that E.M. Hyde come to New York to oversee construction, he is in for a surprise.
Lady Eva is a woman on a mission to prove her abilities and establish herself in the field of architecture. Once she and Phillip meet, like the title implies, a scandalous deal ensues.
What I enjoyed most about this book was Lady Eva's independent thinking and commitment to her goals while exploring romance and passion with the handsome Phillip. I know you will enjoy this book too!
RJ Recommended Read!