A Scandalous Winter Wedding (Matches Made in Scandal Book 4)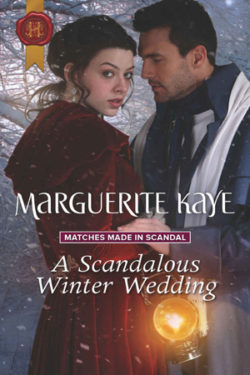 Author

Marguerite Kaye

Release Date

December 1, 2018

Publisher

Harlequin HIstorical

ISBN/ASIN

9781488087103

Our Rating

Reviewed by

Jo
Our Review
What a wonderful culmination A SCANDALOUS WINTER WEDDING is to the MATCHES MADE IN SCANDAL series. Not only do we get to learn more about The Procurer and her motives, but also the secrets that she's never told to a soul…until she and Cameron Dunbar meet up six years after their lives seemed to really begin. They find their chemistry is as hot as ever. While both are reluctant to state they've thought of each other over the years, they definitely never expected to meet up again. 
The story takes place in London and Scotland and goes back and forth between 1819 and six years before. Kristin understands Cameron like no one else ever has. He also understands her even without knowing all her secrets. Their conversations let us into their thoughts and their feelings about their childhoods, their current lives and are often emotional. Their attraction continues to grow until Kristin runs scared. But will Cameron let her get away? 
There are so many adventures and activities they are involved in that keep the story moving, and so much heat each time they are together. We definitely see The Procurer at her finest as she works her magic to solve a problem, but this time with Cameron at her side.
There are a lot of stories taking place within A SCANDALOUS WINTER WEDDING, and the story lines are interwoven effortlessly. The story flows nicely with wonderful descriptions of the food and period clothing that helps place the setting. It was lovely to unexpectedly catch up with the heroines of the previous three books in the series. The epilogue was better than I hoped for, and I love how the happily ever after came about so effortlessly in the end.  
Ms. Kaye has fast become one of my favorite authors of historical fiction set not only in England but also other countries. I look forward to reading whatever she pens next!
A RECOMMENDED READ