A SEASON OF RUIN by Anna Bradley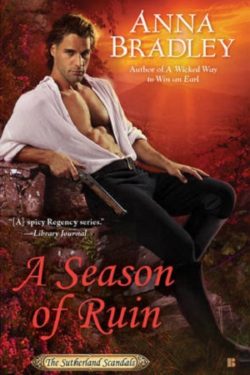 Author

Anna Bradley

Release Date

August 2, 2016

Publisher

Berkley

ISBN/ASIN

9780425282649

Our Rating

Reviewed by

Samantha Streger
Our Review
From the moment I put down A WICKED WAY TO WIN AN EARL, the first book in Anna Bradley's Sutherland Scandals, I've been very impatiently awaiting the next in the series. A SEASON OF RUIN did not disappoint! Anna Bradley has a gift for writing formulaic historical romance plots that feel fresh and even vital. If you enjoy a traditional historical romance, Anna Bradley is up there with the best of them!
A SEASON OF RUIN stars Lily Somerset, sister of Delia from A WICKED WAY TO WIN AN EARL. Lily is a bit of a control freak. Her parents once caused a scandal with their unapproved marriage, and since their deaths, Lily has been determined to maintain order. She dresses impeccably and appropriately for every social occasion, and has even picked out the perfect, completely scandal-less, upstanding (and totally boring) gentleman to marry. But in a perfect twist of fate, it's Lily's obsessive need to be prim and proper that leads to her downfall when, in an attempt to find the ladies sitting room and fix her twisted dress sash at a social gathering, she accidentally enters a different room—a room where the very scandalous Robyn Sutherland is waiting for his latest tryst.
After an earth-shattering kiss born of mistaken identities, Robyn and Lily are discovered, and she is effectively ruined. The ruination plot may be cliché in the world of historical romance, but Anna Bradley makes each event feel inevitable for the characters she has written and the world they live in. For someone who struggles to maintain order and perfection, this scandal is Lily's worst nightmare. But even though the proper next plan would include a marriage proposal from Robyn, for some reason she is determined to come up with a plan that excludes him completely. Robyn doesn't care for fulfilling expectations, and has no plans to help restore Lily's reputation. But for some other reason, it irks him to find that Lily expects nothing from him. It also drives him crazy to learn that being "ruined" means more than being shunned for a few hours, proving how little he understands the ideology surrounding women in his world, and allowing the contemporary reader to easily relate and laugh at how far we've come as a society. Suddenly and fantastically, we're reading about a hero and heroine who have clever ideas and a complete lack of self-awareness—and it's really delightful!
I loved reading about Robyn and Lily, and even better than their explosive chemistry when they do come together is watching and waiting as the two try to deny their need for each other. Every moment seems inevitable as Robyn and Lily bring out each other's fears in order to reach their best qualities. Lily is more than a control freak—she has experienced so much heartbreak due to her parents' scandal and death, it makes sense that she has a perfect ordered plan for her life. But as we realize she's set up a monotonous, miserable life for herself in order to avoid being hurt, we feel her pain and root so strongly for her to experience the true but scary emotions she feels when she's with Robyn. Robyn's never been reliable in the past, because he's never had anyone expect anything but the worst from him. It's fun to watch him struggle to understand why this annoys him—why Lily expecting nothing from him makes him unhappy—particularly because it's so clear to the reader all along.
A SEASON OF RUIN is a new favorite of mine. Anna Bradley has made her mark on historical romance, and I eagerly await the next of the Sutherland Scandals!