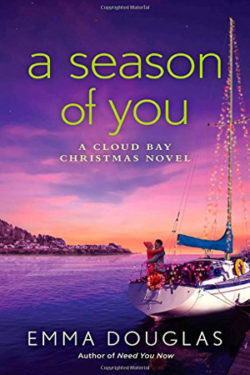 Author

Emma Douglas

Release Date

October 3, 2017

Publisher

St. Martin's Paperbacks

ISBN/ASIN

9781250111005

Our Rating

Reviewed by

Jo
Our Review
It was nice to be back in Cloud Bay with the second book in Emma Douglas's CLOUD BAY SERIES, A SEASON OF YOU. This time it is Mina Harper's story along with Will Fraser. The two don't seem compatible since he owns a bar and whiskey distillery and her husband was killed by a drunk driver. But they feel the chemistry and can't seem to get enough of each other, though I had some issues with their relationship development.
Will has loved Mina from afar from the first time he saw her, but she was dating someone else and married young. Mina's whole world has been her husband Adam, and it's taken her three years to come out of mourning and notice who and what is around her. She seems to give Will conflicting signals, but Will is all in no matter how little of herself she's willing to share.
There are returning characters that we've met in the first book, NEED YOU NOW, which nicely segues into this story. But you don't need to read the first book to understand this one. The story is filled with family and friends during the holidays. The Harper family and their deceased dad, rock star musician Grey, are once again front and center dealing with a few loose ends regarding his estate and belongings.   
The Christmas Festival activities reminded me of festivals in the Fool's Gold series by Susan Mallery. It's interesting to see that both authors have a mayor of a small town play a major role in their stories. Angie of Cloud Bay was hard to like, but her minion, Ryan, was even harder to like. It was nice to feel the holiday spirit shine through and also see how both Mina and Will fight for their dreams and reminisce about how their families shaped them. Will's brother, Stephan, didn't have a big enough role in this story, and I'd love to see him get his own book after book three in the series, NO PLACE LIKE YOU.
A SEASON OF YOU flowed smoothly although slowly at times, but there was a definite happily-ever-after that brought me satisfaction. I look forward to reading more books by Douglas and returning to Cloud Bay at least once more.