A Shoe Addict's Christmas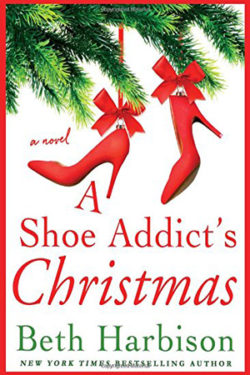 Author

Beth Harbison

Release Date

October 18, 2016

Publisher

St. Martin's

ISBN/ASIN

9781250087218

Our Rating

Reviewed by

Michele Rioli
Our Review
A SHOE ADDICT'S CHRISTMAS by Beth Harbison is a nostalgic Christmas tale starring a beautiful young woman named Noelle Carpenter, who has a painful phobia toward holiday joy. Noelle nixes holiday fun every year since her mother died close to the holidays when she was young. However, the jury's still out if this Christmas Eve will mend Noelle's gloomy mood.
Noelle is employed at Simon's department store, which has an exceptional shoe section that includes Shoe Addicts Anonymous shoes. Noelle adores shoes! As usual, she is working overtime in the back office. When Noelle takes a break and walks out into the store, she discovers she is all alone, the doors are locked, and it is snowing like crazy outside. What will she do?
Actually, locked inside Simon's is a dream come true! Crash, clatter! Noelle dashes to the shoe department in back and is astonished to find a nutty, old lady named Charlie who just knocked over an avalanche of shoes. Charlie timidly declares that she is Noelle's guardian angel. And as Noelle straightens up the shoes, she reexamines her past, present, and future with a little twitchy touch from Charlie. Does disheartened Noelle get her Christmas mojo back?
A SHOE ADDICT'S CHRISTMAS is an enchanting story of Christmas with a twist, regretful decisions, and a dispirited girl named Noelle. Her guardian angel, fledgling Charlie, visits Noelle on Christmas Eve hoping to bring her out of her holiday funk. Charlie points out Noelle's cheerless life decisions and works her magic to restore her spirits by adding a little romance to the mix. Ms. Harbison expertly pens a unique angle on the ubiquitous Christmas carol about past mistakes and learning from them. Charlie's endearing mannerisms won me over, invoking the warm fuzzies. The author nicely spins an amusing, tender tale that is thought-provoking and touching. I loved Noelle's shopping trip through the department store. When I am down, shopping always lifts my spirits too. What a hoot! A SHOE ADDICT'S CHRISTMAS is filled with holiday magic and a light, whimsical touch!