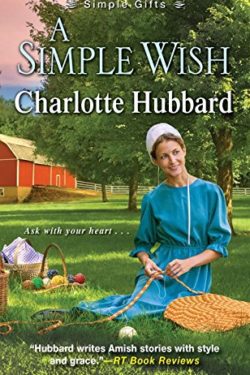 Author

Charlotte Hubbard

Release Date

September 26, 2017

Publisher

Zebra

ISBN/ASIN

9781420138719

Our Rating

Reviewed by

Diana S
Our Review
Loretta Riehl is a young Amish woman who is looking for a happy life with a husband and children. Her dad forbid her from marrying her betrothed a year ago. He is now a widower and is trying to get Loretta to consider marriage again. Loretta doesn't have feelings for him anymore.
Drew Detweiller arrived in Willow Ridge under a cloud of deceit after playing a prank on his twin brother on his wedding day. Almost marrying his brother's betrothed was not what he planned. Working to gain the communities' forgiveness and building trust with his brother in obtaining a new business has helped make amends for his mistake.
Loretta has a crush on Drew and seeing him every time they have a family dinner at the Riehl house, since Drew is her brother-in-law now, adds to the attraction. Loretta is making rugs for the Simple Gifts craft shop to sell and gets a job there as a clerk, against her father's wishes. When Drew brings some furniture to the shop to sell, they have time to talk without her father knowing.
Cornelious Riehl is a widower and has become sterner with his daughters as days go by. Drew wants to aid Loretta in being able to live in a joyful home again. He sets out to find the problem and uncovers family secrets along the way. The story gets more interesting as all the hidden secrets unfold in this page-turning story.
CHARLOTTE HUBBARD is a master at writing compelling inspirational romance books. I am lucky to be able to read advanced copies of her books and enjoy the happiness her stories bring to her readers. The novels give me pause to stop and reflect on life with its ups and downs.
A Recommended Read!