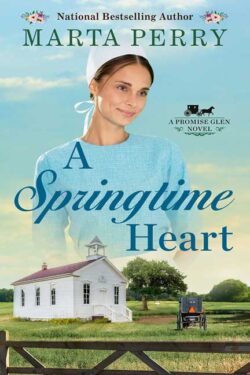 Author

Marta Perry

Release Date

July 7, 2020

Publisher

Berkley Books

ISBN/ASIN

9781984803214

Our Rating

Reviewed by

Jo
Our Review
A SPRINGTIME HEART is the second book in the PROMISE GLEN series, and I look forward to reading the first book, A CHRISTMAS HOME, of which there was an excerpt in the back of the book. Even though I haven't read book one, I wasn't lost since there was enough background information given in this story. The book, set in Pennsylvania, held my interest throughout. There were a lot of different story lines that were woven nicely together.  
This is an Amish story with a lot of friction and gossip, which was a surprise. Dorcas is the teacher at the community's Amish school. Her assistant, Anna, is very helpful with the students. When Dorcas's first love, Thomas, returns home after seven years away with plans to start his own construction business, she's afraid some secrets may be revealed. He's hoping for forgiveness from his father and his siblings after being sent away to his relatives in Ohio for so long. Dorcas and Thomas still have an attraction that they had never acted on previously, though romance is in the air. 
Dorcas is always trying to help others before herself. She's kind to the new elderly Englischer neighbor, even though he just wants to be left alone. She's always there for Thomas especially. The story has a nice flow to it, and I liked the various Amish activities in addition to their language in the book. The inclusion of the Glossary of Pennsylvania Dutch Words and Phrases was an especially nice addition, as well as the soup recipes at the end.
A SPRINGTIME HEART is a heartwarming Amish romance sure to bring a smile to your day.