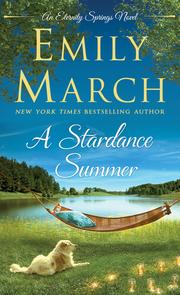 Author

Emily March

Release Date

June 27, 2017

Publisher

St. Martin's Paperbacks

ISBN/ASIN

978-1-250-13168-3

Our Rating

Reviewed by

Diana Mcc
Our Review
I believe this book is number ten in the Eternity Springs Series. The book is a standalone book. It was a real treat to review this book and re-visit Eternity Springs again and the lovely characters that live there.
Liliana Howe is on her way to being her CPA firm's youngest partner when she is falsely accused of falsifying records. When she tells her parents she thought they would be supportive, but her Dad didn't encourage her to fight the accusations, saying she would be one person against a giant company. She felt like they did not believe her.
Shocked at her parents' response, Liliana decides to leave Oklahoma and take the summer off from her life. She buys a travel trailer and joins her elderly land lady, Patsy's, women only RVing group, the Tornado Alleycats. The group is camping for the whole summer at Stardance Ranch campgrounds in Eternity Springs, Colorado.
Brick Callahan has been thrown aside by his longtime girlfriend for a man with more 'money'. He left Oklahoma and now owns and runs the Stardance Ranch campgrounds, in Colorado. Burnt by love he is no longer looking for a committed relationship. Around Eternity Springs he is known as the three date guy. Three dates and he moves on to the next woman.
The Tornado Alleycats celebrate their first night with skinny dipping in the lake. Brick shows up to tell them it's past curfew. This is a very funny scene! He finds not only 40 or so older women, but his best friend's younger sister, Liliana.
Liliana is shocked when Brick turns up. He is her high school crush. Of course, being the younger sister of Brick's best friend, she never stood a chance with him.
There is definitely mutual attraction between Brick and Liliana. They both fight the growing attraction. There is not a lot of sex, but lots of sexual tension.
So many interesting and funny things happen during Liliana's stay at the camp. From fabulous tree house cabins, to learning to fly fish, to Liliana's night out dancing with the Tornado Alleycats, there are lots of memorable moments.
This story has a lot of emotion; it is a character driven story with both main characters having a lot of growth to do, and trust issues to resolve before they can reach their HEA.
Liliana was hurt by her company and her parents, and Brick feeling he is undeserving of love, because of being tossed aside by his longtime girlfriend. They are two broken hearts that have to heal before they can love again.