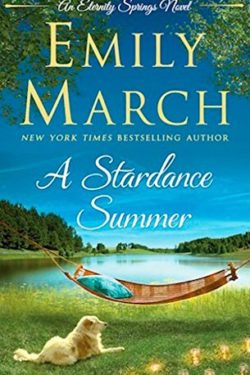 Author

Emily March

Release Date

June 27, 2017

Publisher

St. Martin's

ISBN/ASIN

978-1250131683

Our Rating

Reviewed by

Diana S
Our Review
Liliana Howe is having a very bad day. She lost her job, got a DUI and lost her accountant's license in one afternoon. She goes to see her parents who also live in Norman, Oklahoma, looking for sympathy. All she receives are doubts about her telling the truth. Hurt beyond words, Lili decides it's time to get away from her current life and figure out what she will do next. Her landlady Patsy invites Lili to join the Tornado Alleycats, a group of senior ladies who find out-of-the-way places to group together and camp out. Lili worked 70 hours a week and never tried any new adventures. She decided it was time she found some. She sold her car, bought a truck and camper, then headed to Colorado to meet up with Patsy and her group.
Brick Callahan is the owner and manager of Stardance Ranch RV Resort just south of Eternity Springs, Colorado. Brick is happy Patsy and her ladies have rented his camp for the entire summer. Brick grew up in Norman, Oklahoma, with his adoptive parents and went by the name of Mark Christopher. After college in Hawaii, his birth father finds Mark and asks him to come to Eternity Springs, Colorado, to meet the whole clan of Callahans. Mark received the nickname of Brick from his father so he goes by Brick Callahan now.
Mark Christopher is the boy Lili had a crush on in high school, but being her older brother's best friend, Lili was off-limits to Mark.
When Brick sees Lili skinny-dipping with the other ladies, he doesn't recognize her at first, but knows she is one beautiful woman. Lili recognizes Brick, or Mark as she knows him, and she is embarrassed plus surprised.
The Alleycats nickname Brick as Camp Director Dreamboat and want to know how Lili knows him. She has nothing but bad memories about him so she declines their questions. Patsy and Lili are close friends so Lili unloads her hurt feelings to Patsy.
Things progress fairly well through the summer with Lili going to bars to meet new men and Brick not liking it. There are a lot of tears spilt and some laughter too as the story progresses.
Eternity Springs is an enchanting town with angels and love all around. I have read Emily March books for longer than I can remember and am never unhappy with any of her stories. They make you believe in guardian angels watching over you. Take some time and enjoy the stories and memories in this wonderful series.