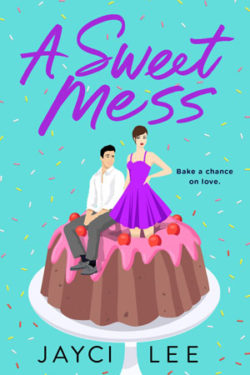 Author

Jayci Lee

Release Date

July 14, 2019

Publisher

St. Martin's Griffin

ISBN/ASIN

9781250621108

Our Rating

Reviewed by

Michele Rioli
Our Review
Cakes, cookies and pies, I am in heaven! A SWEET MESS is a sizzling, passionate love story that embraces the chemistry of two soul mates whose attraction is scorching hot. A beautiful talented pastry chef, Aubrey Choi, throws caution to the wind, when she meets a devilishly handsome man, Landon Kim, at a bar and has a night of pleasure with him. Um, okay, she didn't know he was a celebrated food critic. When a cake flub-up and a devastating review from the sexy guy threatens her business and career, all could be hopelessly lost. That blasted man!
Landon didn't know Aubrey owned a bakery. After he eats a cake from her establishment, nearly choking to death, he writes a terrible review. He is at odds with his feelings over Aubrey. He never retracts his reviews but he doesn't want to ruin her business either. There's something touching and electrifying when he's near her. He decides to help boost her business with a cooking show that will be filmed in California.
Aubrey isn't sure about this but takes a leap of faith and hopes she lands on her two feet. It will be the test of her life and to her heart to spend time with the exquisitely handsome man and keep her hands to herself. Landon's friends loan them a place to stay. Will it be the best move Aubrey's ever made? Or will the doughy deal fall flat?
Many congratulations to Ms. Lee for A SWEET MESS. It is delectably juicy and ripe with romance! I laughed until I cried with Aubrey's antics and Ms. Lee's story-telling prowess. Yes, this is the novel of the year! A pastry chef and a food critic's love simmers slowly and then boils over into raging hormones. Hoot-in' humor with a fantastic foodie tale. A SWEET MESS called my name just like slow roasted, flame grilled, fork-tender barbecued ribs. So irresistible, satisfying and smoking hot!