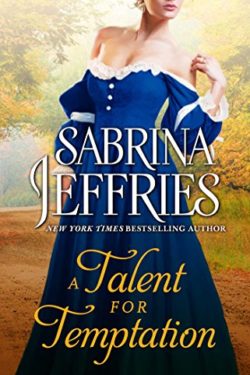 Author

Sabrina Jeffries

Release Date

October 2, 2017

Publisher

Pocket

ISBN/ASIN

B071DDL96W

Our Rating

Reviewed by

Raonaid
Our Review
Quinn Raines works as a clerk at his father's bank. He orchestrates a sham abduction so he can play the hero for his reluctant beloved. The scenario does not go as Quinn intends. As Meriel patches his wound, he discovers some interesting truths about the lovely widow. Will Quinn confess the truth about the ruse to his beautiful spy? Or will his attempt at subterfuge cause him to lose Meriel for good?
Widow Meriel Vyse works as both secretary and spy for her spymaster brother-in-law. She wants to quit the espionage business and live an ordinary life. Meriel feels unworthy of Quinn Raines' affections. On her way to a spying mission, she foils her own abduction and accidentally wounds her rich suitor. Will Meriel allow her profession to stand in the way of her happily-ever-after? Or will Quinn's revelations change her misgivings about marrying him?
Quinn is such a sweetheart. He proves the foolish lengths some people would go through just to win their love. Although the method Quinn uses is not a smart one, I like that he takes the initiative than continue with their present course. I love how Quinn still accepts Meriel, even after learning about her questionable background and profession. But what I adore the most about Quinn is his willingness to admit the truth about his deception to Meriel than allow Faulkham to rat him out.
Meriel thinks of others before she does herself. I admire her concern about Quinn's reputation and how her association with him might damage it. I understand Meriel's desire to leave the espionage game and live a life free of subterfuge. I enjoy the brother / sister relationship between Meriel and Faulkham. She appreciates everything he has done for her.
A TALENT FOR TEMPTATION is book 4.5 in Sabrina Jeffries' historical-romance series, SINFUL SUITORS. I remember Meriel and Quinn from THE STUDY OF SEDUCTION, book two in the series. I am glad the couple finally found their resolution, yet I wish their story was a full-length novel instead of a short novella.
A TALENT FOR TEMPTATION is a short yet sweet tale of two people overcoming their reservations and clearing-up their misunderstandings to be together. I hope Gregory Faulkham is next in finding his match.