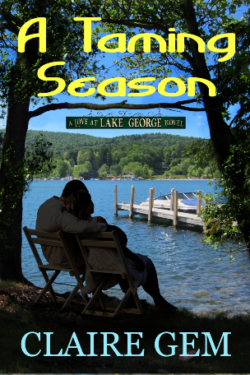 Author

Claire Gem

Release Date

June 19, 2016

Publisher

Erato Publishing

ISBN/ASIN

B01GGRKA3M

Our Rating

Reviewed by

LJT
Our Review
A TAMING SEASON by new to me author Claire Gem, is an intensely emotional story that brought tears to my eyes. This is the first book from Ms. Gem's brand new series, A LOVE AT LAKE GEORGE, and I look forward to reading more about the happenings in this small tourist town.
Due to a deranged killer, social worker Zoe Anderson lost her beloved husband three years ago. The scars on her face are a brutal reminder of the hell she went through and continues to live with each day. Zoe needs to reclaim her life and remember better times. She decides to take a leave of absence from her job and spend some time at her late aunt's cottage on Lake George. Zoe recently inherited the cottage and believes the happy memories there will help her heal. Unfortunately, the cottage is not livable, due to years of neglect. Zoe ends up spending her time off at Lakeview Lodge, an upscale, seasonal resort that borders her dilapidated property. Jason Holland is the owner of the resort and he wants to purchase Zoe's land. They share an immediate sexual connection which they very quickly begin to explore. Jason is a known womanizer, however, Zoe's presence in his life changes his outlook on relationships.
Zoe and Jason are a hot couple and the situation that brings them together is both serious and bittersweet. As they get to know each other, Zoe realizes that a second chance at true love is very possible, while Jason finally believes that he is not like his father, and that making a commitment is not scary. Zoe's tragic past broke my heart into a million pieces, because of the way Ms. Gem tells her story. Overall, I liked this emotional romance and I look forward to reading more from this author. This book can be enjoyed as a standalone.