A Touch of Stone and Snow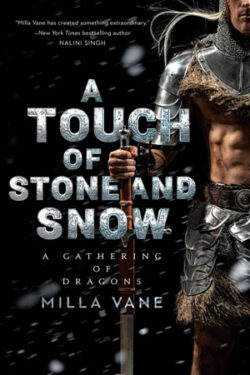 Author

Milla Vane

Release Date

July 7, 2020

Publisher

Berkley

ISBN/ASIN

B07Z2TQFFV

Our Rating

Reviewed by

Raonaid
Our Review
Lizzan is a Kothan solider living in exile. She travels the world as a sword-for-hire. Lizzan's path brings her to the one man she wishes never to see again. She begs the goddess Vela for a quest to redeem her family's honor. Lizzan must protect the first person she sees outside the temple, who happens to be Koth's feral prince. Will Lizzan be able to complete her quest? Can she convince Koth to ally with the southern realms against the Destroyer? And what sacrifice will Lizzan have to make?
Aerax is a bastard prince of Koth. He travels outside his country to seek help from a neighboring realm. Instead, Aerax encounters Lizzan with a party from the southern realms. The goddess Vela gives him a task too: to become who he is meant to be. Something Aerax intends to do; however, he wants to renew his relationship with Lizzan. What role does fate have in store for Aerax? Can he right an ancient wrong? Or will he defy the gods to keep Lizzan with him?
Lizzan is a less-than-perfect heroine. I love that she is not the typical, cliché beautiful heroine. She has been mentally and physically scarred by her ordeals as a solider. I like Lizzan's determination to help the southerners form an alliance with the western realms. Her country may have betrayed her, yet she still wants to keep them and the neighboring realms safe from the Destroyer. What I adore the most about Lizzan is her thoughtfulness towards others. She not only helps a foreign queen but a village that spurned her and an old woman with no expectations of recompense.
Aerax is such a love. He is a man defined by the secrets he is forced to keep and the tough choices he must take. I understand Aerax's reluctant allegiance to his country. He has no love for Koth. However, that does not stop him from doing what he needs for it. What I adore the most about Aerax is his patience and protectiveness towards Lizzan. He understands it is hurt that drives her from him. Instead of pushing her, he lets Lizzan come to him on her own terms. Aerax also risks censor by defending her against their countrymen's ill treatment.
A TOUCH OF STONE AND SNOW is book two in Milla Vane's barbarian-fantasy romance series, A GATHERING OF DRAGONS. It is crucial to read the first book to understand the world-building and the story's undercurrents. I am a fan of the author's steampunk series, THE IRON SEAS, under her alias Meljean Brooks. Milla Vane's jaunt into the fantasy genre did not disappoint me! I love how certain side characters from book one play important roles throughout the story.
A TOUCH OF STONE AND SNOW is a masterful tale that blends high fantasy with romance. I hope the author plans to write a story for the Parsathean warrior Seri and the Syssian prince Tyzen. I cannot wait for more adventures in this fascinating world.