A True Cowboy Christmas (Cold River Ranch)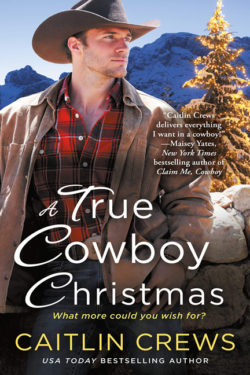 Author

Caitlin Crews

Release Date

October 30, 2018

Publisher

St. Martin's Press

ISBN/ASIN

9781250295231

Our Rating

Reviewed by

Jo
Our Review
A TRUE COWBOY CHRISTMAS, the first book in the COLD RIVER RANCH series, left me wanting more. The title was a little deceiving until the very end of the book. I look forward to reading the next two books in the series about Gray's brothers.  
Gray runs the family ranch. After burying his father, who was nothing but evil, Gray decides he needs to get married again and chooses Abby, a neighbor who lives with her grandmother. Abby has loved him forever—even when he was too old for her, married someone else and had a child with her, and buried his first wife. Abby is stunned but ultimately says yes. Will her dreams live up to the reality? 
There are several stories going on, and they flow together nicely. We need the information given to us to see why Gray and Abby, as well as his daughter, Becca, and his brothers, Ty and Brady, act the way they do. Their families are dysfunctional thanks to Abby's mom and Gray's parents. We learn about the characters a little at a time, which gives them depth. 
Everyone holds secrets. But when Gray, Abby, and Becca start to communicate they start to heal. (Every time that Gray compared Abby to his first wife, I wanted to punch him!)  Even Gray's brothers let their thoughts be known, which really throws Gray for a loop.
The descriptions of the homes, the mountains, and the preparations for Christmas enrich the story. I love how Abby and Gray are able to knock some of each other's barriers down. Abby is a good listener and especially good for Becca. I didn't always find Abby's girlfriends supportive of her marriage and was glad that Abby didn't always confide in them. There is nice closure and a surprising ending to the story that's well done.
Ms. Crews is a new-to-me author, and I've only read one book written by Megan Crane, the other name she writes under. I will definitely be looking for more of her books!