A Very Highland Holiday, Anthology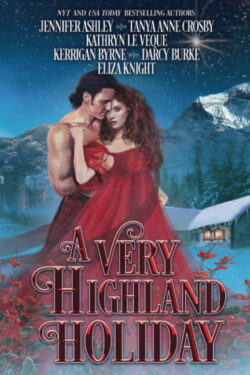 Our Review
Each story in this anthology takes place in a pastoral Scottish tavern around Christmas. The heroes have been involved in the dreadful Battle of Culloden Moor. I enjoyed each author's take on the tavern's owner and his feisty daughter.
It has been some time since I read an anthology or a holiday-themed story. I generally stay away from the former because they are just too short for me. I prefer longer stories but these novellas engaged me from the beginning.
THE EARL OF CHRISTMAS PAST
by Kerrigan Byrne
Vanessa Latimer seeks shelter at a Scottish tavern during a bad winter storm. She accepts the only room available. Johnathan de Lohr is forced to haunt a particular room inside Balthazar's Inn. He cannot help but be intrigued by his latest roommate. Can Vanessa help release Johnathan's spirit from the tavern? What other miracle will the two experience?
Johnathan is such a sweetheart. I love how protective he is over Vanessa. He recognizes a wounded soul betrayed by others. Vanessa is the tortured type. I admire how she does not wallow in misery, instead, she finds a silver lining.
THE EARL OF CHRISTMAS PAST is loosely tied with Kerrigan Byrne's upcoming series, THE GOODE GIRLS. I love how this story and Kathryn Le Veque's are connected. I will admit, Kerrigan Bryne's tale is the sole reason I picked up this anthology. I always enjoy her stories.
THE EARL IN WINTER
by Kathryn Le Veque  
James de Lohr, Earl of Hereford, intends to collect his late brother's effects. His journey brings him to a certain tavern during the holiday season. Gaira is the sole grandchild of a disgraced earl. She works as a serving maid to support herself and her mother. Will James find all that he is searching for? Can Gaira help James come to terms with his brother's passing? Who else will help these two?
James, like his older brother Johnathan, is a sweetheart too. I like the fact that he suffers from a speech problem. It makes him approachable. Gaira is such a likeable heroine. She is perfect for James. I love how she helps the de Lohr brothers reconnect and heal.
Kathryn Le Veque is a new-to-me author. I really like her writing style. I will definitely have to look into her novels.
FIONA AND THE THREE WISE HIGHLANDERS
by Jennifer Ashley 
Fiona MacDonald is a laird's sister. She defies her brother by traveling around Scotland helping Jacobite rebels escape British troops. Stuart Cameron is returning home with the aid of two smugglers. However, his path crosses Fiona's in a rustic tavern during the holidays. Will Stuart successfully elude the authorities? Will he learn about Fiona's secret? And can the two find a way to be together?
I admire Fiona's daring, especially in an age when women had little to no power. She understands the circumstances if she is caught, but that does not stop her. I like how Stuart tries to help his enemy. He could have abandoned Fiona's brother; instead, he risks much to help.
FIONA AND THE THREE WISE HIGHLANDERS is a part of Jennifer Ashley's Highlander series, THE MACKENZIES / MCBRIDES. Jennifer Ashley is the other author I am familiar with. I have read and enjoyed many of her paranormal works.
ONE KNIGHT'S STAND
By Tanya Anne Crosby 
Lady Elizabeth Wolfe is the niece of an English lord. She agrees to marry the MacKinnon laird to save a Scottish family from complete ruin. However, the weather forces her to stay at a certain tavern. Callum MacKinnon is his clan's true laird. He decides to stop at Balthazar's Inn before returning home. Callum learns that his "bride" has rented a room.
Tanya Anne Crosby is another new-to-me author. I have heard of her name. I just never had the chance to read any of her stories.
THE LEGEND OF A ROGUE
By Darcy Burke 
Elspeth Marshall is a gifted storyteller. She learns about a certain mythical sword from a mysterious man, who later disappears. Elspeth travels around Scotland collecting unique stories to publish. Tavish Crawford needs to find the sword entrusted to his family. However, he encounters Elspeth again at a Scottish tavern. Can Tavish keep the sword from falling into the wrong hands? Will Elspeth fall victim to an evil secret organization?
THE LEGEND OF A ROGUE is a part of Darcy Burke's series, THE LEGENDARY ROGUES. This story is one of my favorites in this anthology. It has the right amount of action that kept me reading. Darcy Burke is another new-to-me author. I am keen to look into this particular series when I have the chance.
THE HIGHLANDER WHO STOLE CHRISTMAS
By Eliza Knight 
Laird Thane Shaw wants revenge against the Campbells for his sister's death. However, he never thought it would be so easy. Lady Sarah Campbell is the only sister to the Campbell's lairds. She refuses to be sold off to the highest bidder to feed her brothers' greed. Sarah latches onto the opportunity Thane provides. Can Sarah help Thane let go of his need for vengeances? Will he help her escape her brothers for good?
THE HIGHLANDER WHO STOLE CHRISTMAS is a Scottish version of the Christmas tale, HOW THE CRINCH STOLE CHRISTMAS. Eliza Knight did a splendid job in the recanting but with a notable twist.
A VERY HIGHLAND HOLIDAY is a wonderful set of tales about people overcoming chaotic times. Each story may take place during Christmas, however, the holiday does not dominate the storylines.