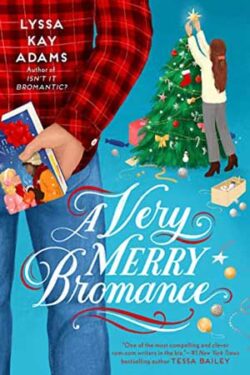 Author

Lyssa Kay Adams

Release Date

November 1, 2022

Publisher

Berkley

ISBN/ASIN

9780593332795

Our Rating

Reviewed by

Jo
Our Review
A VERY MERRY BROMANCE is the fifth book in the Bromance Book Club series and it doesn't disappoint! It's filled with quirky but endearing characters who are part of the male (or bromance) book club that talks about tropes and grand gestures—something all romances need at some point. This is Colton and Gretchen's story. The pair got together a year ago after a friend's wedding. But soon after Gretchen ghosted Colton since her family is dysfunctional. She feels like she brings out the worst in others and can't be loved since her own family avoids her.
Gretchen comes from money and a well known whiskey making family but has always been an outsider. Everyone in her family, except for her uncle, treats her poorly, most of all her brother, who is set to inherit it all. She's an immigration attorney whose clients are usually pro-bono cases, and she's struggling to keep her firm afloat. When her path crossed Colton again, will they be able to pick up where they left off?
Colton is a country music star whose career is ready to implode—but not if he can help it. He's taken by surprise when his record company doesn't like the direction his music has taken, but he's willing to prove himself and put in the work to get back on track since many people depend on him. He seems to find his muse again after a dismal two years. Could that be thanks to seeing Gretchen again? 
There are a lot of story lines in this book, and they are effortlessly woven together. I love that the story is set at Christmas and that there are family traditions as well as other activities richly described. The main characters feel real and have you rooting for them.
A VERY MERRY BROMANCE is an emotional holiday read. I do hope there are more books in this series because there are definitely more stories to tell. The cover is colorful and festive as well. A wonderful holiday romance that will warm you right up!