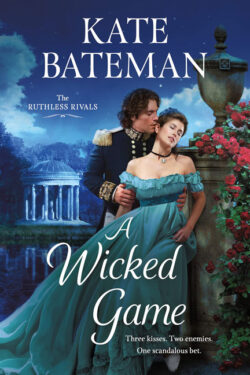 Author

Kate Bateman

Release Date

December 27, 2022

Publisher

St. Martin's Paperbacks

ISBN/ASIN

9781250801586

Our Rating

Reviewed by

Raonaid
Our Review
Captain Morgan Davies returns to London after being imprisoned by the enemy, thanks to an inaccurate map. He vows to find the cartographer responsible and make the man pay. Morgan also intends on collecting his sweet reward from the bet he made with his nemesis. His captivity made Morgan realize what he really wants from the sharp-tongued Montgomery. Now he just needs to devise a plan to convince Harriet that they belong together. Can Morgan persuade Harriet to ignore their family's ancient petty grudge? What lengths will he go to prove his love?
Harriet "Harry" Montgomery is a cartographer. In her father's stead, she creates defected maps for the Admiralty to use against the French. Harriet has always enjoyed her clashes with the devastatingly handsome Morgan, her natural enemy. She hatches a plan to ensure his return from the war unharmed, in the form of a bet. When he comes to collect his prize, Harriet seizes the chance to enjoy a sensual adventure. However, danger encroaches on their time. Can Harriet trust Morgan's feelings as true? Or is the handsome captain merely toying with her affections?
Morgan is such a charming and mischievous rascal! I willingly admit he is my favorite Davies. He has this infectious personality that one cannot help but to adore. I like Morgan's interactions with his older brothers. There were several scenes between them that had me giggling. It is obvious that the Davies' siblings are close and look out for each other. What I love the most about Morgan is how he recognizes from the start the feelings he has for Harriet. In most books of this genre, the hero is the last person to realize their feelings. Morgan demonstrates his love throughout their childhood and adulthood with small gestures.
Harriet proves to be Morgan's perfect match. Their personalities compliment the others wonderfully. I admire the sacrifices Harriet has made for her father. She does not wish to inconvenience their family with his care. Instead, Harriet has set aside her dreams of adventure and any hopes for the future. What I love the most about Harriet is the person she becomes around Morgan. She practically comes alive whenever they banter, and neither bears the other any ill will. They simply enjoy clashing their wits together and indulging in one-upping the other.
A WICKED GAME is the third book in Kate Bateman's historical romance series, RUTHLESS RIVALS. The story can stand-alone, but I strongly advise reading the previous two stories before starting this one. The first book, A RECKLESS MATCH, explains the history behind the Davies and the Montgomery's century-long feud. There are also scenes in both books that show the blatant attraction brewing between Harriet and Morgan. I finished this book in two sittings. I literally could not put it down and found any excuse to allow me to keep reading.
A WICKED GAME is an enthralling tale of two people forgoing their family's eons-long enmity to embrace their mutual attraction. I am on pins and needles for the next installment! The epilogue promises there is a Montgomery in Rhys Davies' future.
A recommended read.